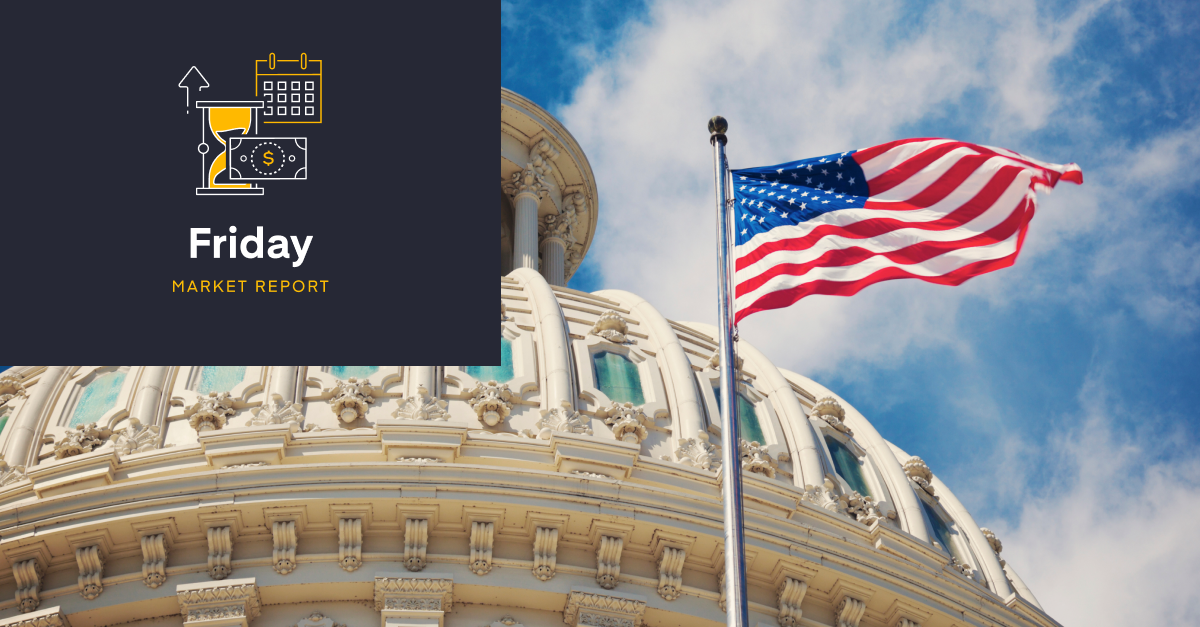 Dollar back on top!

GBP: Interest rate expectation not enough to support the pound
EUR: Inflation at 8.9%
USD: On for biggest gain in two months
Sterling
Disappointing day for sterling yesterday without any clear direction, mirroring the indecisiveness of equity markets.
=In another sign that sterling traders are largely ignoring interest rate differentials at the moment can be seen in the money market pricing on interest rate expectations in 2023. Pricing suggests that we will see the interest rates peak approximately around 3.75% in May/June 2023 for the UK versus a peak of 3.65% in May for the US. So yes money markets are betting interest rates come the second quarter of 2023 will be higher in the UK versus the US. But still, this doesn't seem enough of a reason for investors to buy into the pound from a yield differential perspective.
Mixed data from the UK this morning with consumer confidence in the UK falling more than expected now down to -44 as concerns about a recession increased. And whilst retail sales month on month showed an increase in sales by 0.3%, year on year sales fell by 3.4%.
For now, it seems the pound is going to be seen from a growth perspective and thus whether the UK can avoid a recession. We've mentioned this before, the new PM's fiscal policy could be a key factor in this also.
As it stands, for reasons I'll come to below, GBPUSD has dropped to a new monthly low.
Euro
Inflation in the eurozone climbed to 8.9% in July up from 8.6% in June, keeping the embers burning for a 0.5% rate hike in September. Money markets are now pricing in a 100% chance of this at the moment.
But unfortunately, this was not enough to give the euro support versus the dollar – now also at a month low. On GBPEUR, euro buyers are attempting to bring the pair down to the August lows.
USD
The dollar has continued its rampage in the FX markets as it continued to retrace the fall it suffered since 14th July, and is on course to make its biggest weekly gain in two months.
The move comes as Fed member James Bullard called for another 0.75% rate hike in September. Geopolitical risks could also be a factor after news that Chinese President Xi Jinping and Russian leader Vladimir Putin will attend a Group of 20 summits in Bali.
The old adage let the trend be your friend is in play here with the dollar, so for the time being, it would be tough to bet against further moves for the greenback.
Chart of the day
Money markets increased their bets on interest rate hikes in the UK yesterday suggesting that they will peak at 3.93% in June, overtaking the US, which is forecasted to be at 3.6%.
Clearly, markets are concerned about the extent of such hikes on the effect of growth in the UK and the ability to avert a recession. GBPUSD currently trades at a one-month low.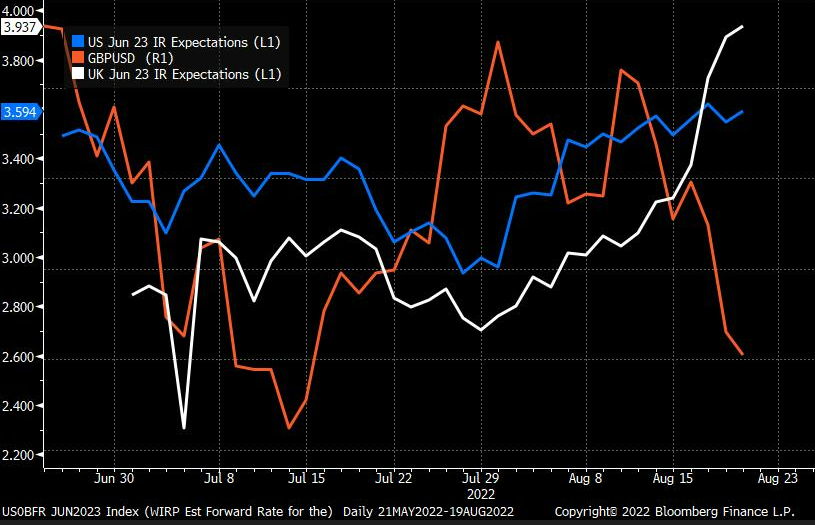 Source: Bloomberg Finance L.P.
Market rates
Today's Interbank Rates at 09:13am against sterling movement yesterday.
| | |
| --- | --- |
| Euro | €1.179 ↓ |
| US dollar | $1.189 ↓ |
| Australian dollar | $1.722 ↓ |
| South African rand | R20.12 ↓ |
| Japanese yen | ¥162.6 ↓ |
Have a great day.