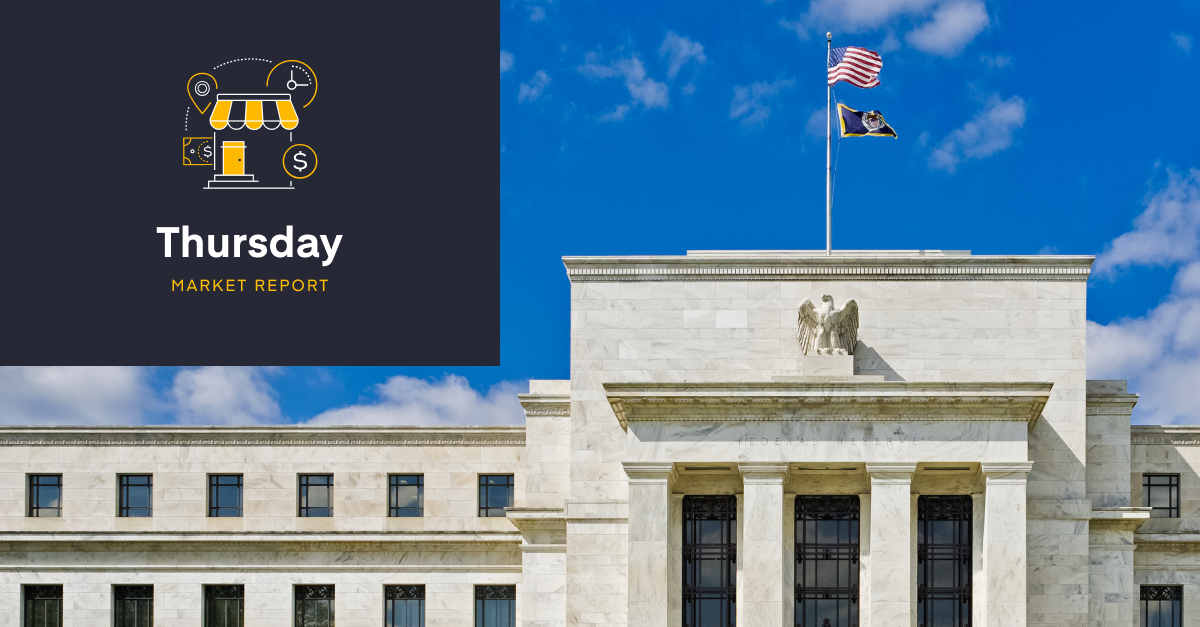 Dollar drops as Fed drops forward guidance

GBP: GBPEUR at 2-month highs and GBPUSD at 1-month highs
EUR: Volatile gas price, volatile euro
USD: Rate hikes now data dependent
Sterling
Sterling once again had another relatively positive day, tracking higher equity markets.
Notably, we are currently at the best levels to buy euros and Danish kroner for two months, and back at one-month highs on the dollar following the Fed meeting last night.
Euro
European gas prices went on a rollercoaster of a ride yesterday causing swings on euro rates. In the morning, gas prices opened up over 8% higher causing the euro to be sold off initially. An announcement from the Kremlin stating that Russian energy giant Gazprom will be able to pump more gas once turbines are fixed caused gas prices to then move from the highs of 222.00 down to 196.00 (a drop of 12%), then causing the euro to recover. A report later in the afternoon suggesting that flows via a pipeline in Ukraine will be cut by 77% today caused gas prices to climb back, causing the euro to weaken back down again.
No new lows were seen in euro rates, but nonetheless the energy crisis looks set to continue to weigh on the currency.
Inflation data from Germany will be in focus today, expected to drop marginally from 8.2% to 8.1%. Eurozone consumer confidence is expected to remain near all-time lows, and of course, we keep an eye on the European gas prices to gauge how the euro will perform.
USD
Durable goods orders surprised to the upside yesterday, increasing by 1.9% in June fuelled by a surge in defence aircraft. The increase suggests that firms are continuing to invest despite rising interest rates and economic uncertainty. Pending home sales fell by 8.6% in June as mortgage rates kept on rising. Impact on the dollar was minimal ahead of last night's Fed meeting which took centre stage.
So, as expected the Fed hiked rates by 0.75% and reiterated that the job market remained tight, and that the US was not currently in a recession.
However, regarding future rate hikes, there was a change in language with the Fed now dropping forward guidance for future rate hikes, and electing for meeting-by-meeting decisions as well as being data dependent – like what we saw from the European Central Bank last week. Fed Powell also didn't push back against rate cuts next year.
Money markets immediately lowered hike expectations causing the dollar to weaken, and equity markets to rally.
The next Fed meeting will now be in September, so plenty of data points between now and then for the Fed and the markets to digest to then consider what the next hike will be. Markets are now only pricing at a 35% chance of a 0.75% hike in September.
What does this mean regarding longer-term dollar moves? Probably no change to where we were before the Fed meeting, given that future hikes will be data-dependent, and any increased chances of a recession will see the dollar attract safe haven flows. However, in the short term, we could see a continuation in the recent weakness of the dollar.
Today, we turn our attention to the first estimate of economic growth in the second quarter. The economy shrank by 1.6% in the first quarter, so a negative reading today would put the US in a technical recession. But, markets are expecting the economy to have grown by 0.5%.
Initial jobless claims will be in focus to measure the tightness of the job market. Last week's data showed the number of people filing for jobless claims rose to the highest in 8 months.
Given the data dependency, we will also be keeping an eye on the core PCE index for the second quarter, which measures the amount of money consumers spend on durable goods, consumer products, and services. The data is considered a key inflation indicator.
Chart of the day
The dollar has been king of the currency markets this year on account of aggressive monetary policy by the Fed, as well as investors seeking the safety of the US dollar as equity markets have been dropping.
Signs of a change in year-end interest rate expectations have weakened the US dollar since we saw fresh 20-year highs earlier this month. It seems that should the risk of recession (thus higher equity markets) and inflation (thus lower rate hikes needed) drop, then we could well see the longer term trend reverse. As per the Fed's stance, moves will be data dependent.
Market rates
Today's Interbank Rates at 10:19am against sterling movement vs yesterday.
| | |
| --- | --- |
| Euro | €1.193 ↑ |
| US dollar | $1.217 ↑ |
| Australian dollar | $1.738 ↑ |
| South African rand | R20.32 ↑ |
| Japanese yen | ¥164.8 ↓ |
Have a great day.