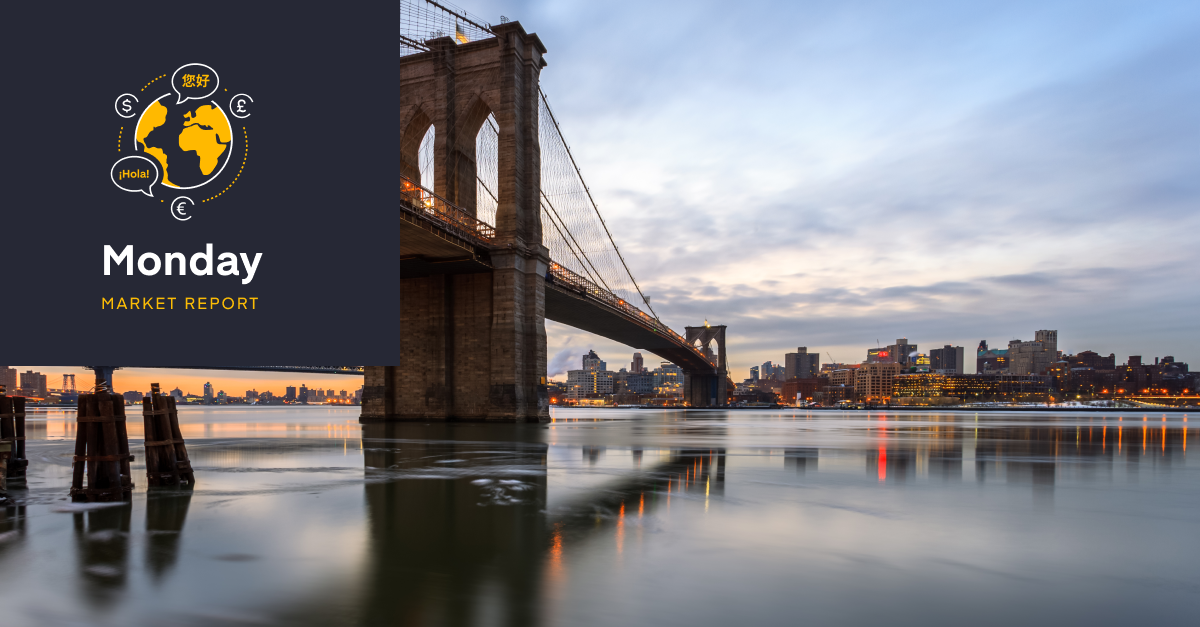 Dollar resumes its dominance again

GBP: Bank of England take centre stage
EUR: Fragmentation holding the euro back
USD: 0.75% rate hike could be on the cards
Sterling
Busy week ahead for the UK ahead of the Bank of England taking centre stage on Thursday.
Markets expect a rate hike of 0.25% but could the Bank surprise and join other 'aggressive' central banks with a hawkish stance on future hikes? The market has long been of the opinion that the Bank will not be able to keep up with their hike cycle balancing the fight against inflation (currently at 9%) versus the impact on economic growth. The UK is currently forecasted to be the worst performing economy in the G10 in 2023.
But following Sunak's £15bn stimulus a few weeks ago, the idea has been floated that perhaps the Bank will have more freedom to raise rates.
A hawkish Bank of England could give the pound a bit of support, but the impact could be limited given that broader risk sentiment is negative now.
Before then we have the UK unemployment rate and wage growth figures on Tuesday. A figure on the upside would add to inflationary pressures and give the Bank of England more food for thought.
Reports this morning suggest that Boris Johnson could unveil plans to override parts of the Brexit agreement, so we wait to see how the EU react to this and data this morning has shown that the economy shrank in April by 0.3% versus expected growth of 0.2%.
Sterling starts a potentially volatile week on the downside.
Euro
The euro continued its move weaker on Friday with continued the strength of the dollar in a market seeking more clarity on how the ECB plan on dealing with Fragmentation.
A host of ECB members will be speaking this week. Last heard from a slightly hawkish ECB opening up the possibility of a 0.5% hike in September should inflation continue to rise. However, until the markets hear of how the Bank intend to deal fragmentation then expect the euro to be weak.
German inflation figures are due on Tuesday as well as the Zew economic sentiment figures with the Bloc's inflation figures due out on Friday.
US dollar
Inflation soared to a 40-year high of 8.6% on Friday renewing buying interest in the US dollar.
Last month we saw the dollar lose over 3% after Fed member Bostic suggested that the bank could well pause hiking rates in September. But with inflation getting hotter, markets are now expecting a hawkish Fed on Wednesday with some tier 1 banks even suggesting we could see a 0.75% hike with suggestions on the Fed raising hike expectations. Markets have risen their 2022 terminal rate expectations to 3%.
Even if the Fed hike rates by the expected 0.5%, any indication that the Fed would be willing to do larger rate hikes in the future should also be dollar positive.
Key data points this week will also be producer price inflation on Tuesday and Wednesday's retail sales figures, but prime focus will be on Wednesday night's Fed meeting. As mentioned above, a hawkish Fed will continue to give the dollar support.
Market rates
Today's Interbank Rates at 09:40am against sterling movement vs Friday.
| | |
| --- | --- |
| Euro | €1.167 ↓ |
| US dollar | $1.222 ↓ |
| Australian dollar | $1.749 ↓ |
| South African rand | R19.62 ↑ |
| Japanese yen | ¥164.3 ↓ |
Have a great day.