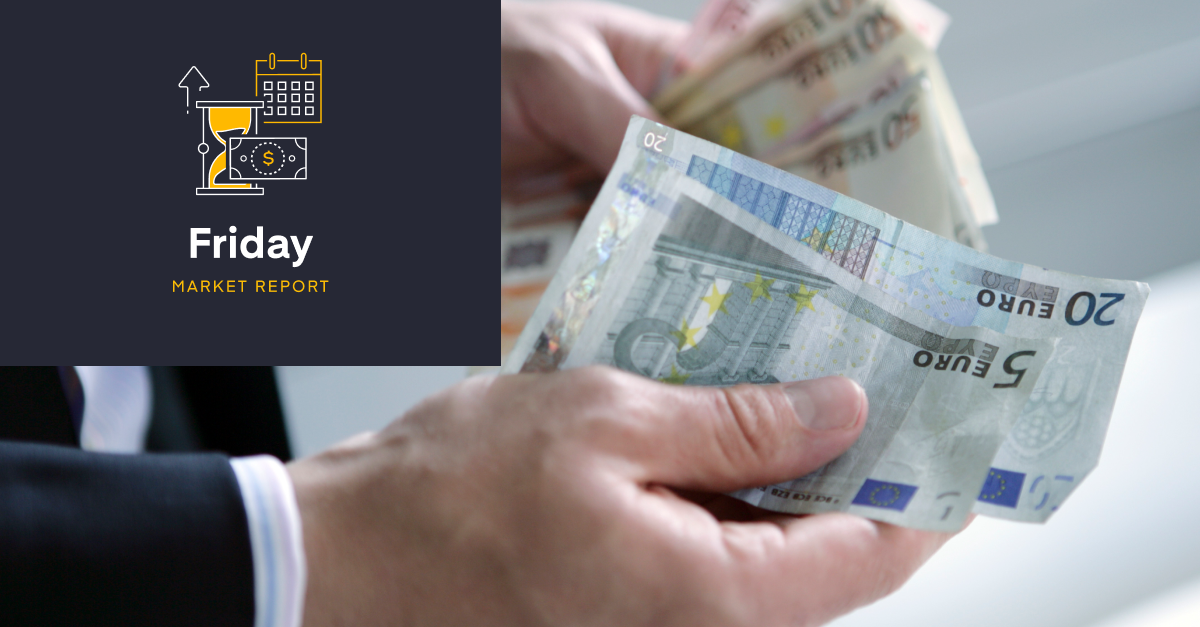 ECB disappoint

GBP: Retails sales drop by 5.8%
EUR: ECB hike by 0.5% but still disappoint
USD: Job market in threat?
Sterling
The only thing to note for the UK yesterday was a YouGov survey of 730 Conservative Party members, showing that 62% would vote for Liz Truss and 38% would vote for Rishi Sunak. Given we are still in the early stages of the race and we are yet to hear any of their policies, the market impact remains low.
Year on year retail sales plunged more than expected this morning, falling by 5.8% in June but so far has had little impact on the pound.
We await manufacturing and service sector PMIs later this morning for a gauge on the UK economy.
Euro
The ECB rose interest rates for the first time in 11 years, hiking them by 0.5%, causing the euro to gain across the board. However, the gains were short-lived and we soon saw a reversal of the move.
Why was this? As mentioned yesterday, the case for a stronger euro would have been merited on an aggressive rate hike cycle and clarity on how the anti-fragmentation tool, the Transmission Protection Instrument (TPI) would work. Instead, the Bank dropped previous forward guidance suggesting future hikes would be data-dependent and even with larger rate hikes in the near term, the projected year-end interest rate remains unchanged, suggesting thoughts turning to concerns of an economic slowdown. Markets were also left disappointed with TPI tool given there were no details on how the tool would be triggered and as well as not providing the exact mechanisms of how it would be activated.
As a result, the spread between Italian (BTP) and German (bunds) 10 year bond yields increased showing concern over the impact on higher interest rates on Italy's debt repayments. As we have recently noted the spread in the yields has been widening due to the uncertainty in Italy.
Following Mario Draghi's resignation yesterday, President Matterella dissolved parliament and confirmed an election will be held on 25th September, earlier than expected. Early indications suggest that a group led by Giorgia Melonis Brothers of Italy could win by a clear majority.
As it stands the euro is back at the same levels as it was prior to the ECB meeting.
Going forward, concerns about Italian politics, the continued concern of Russian gas supply and the BTP-bund spreads will likely continue to bring headwinds for the euro.
This morning's PMI data from Germany, France and the EU as a whole have all disappointed coming in lower than expected driving the euro lower in early trade.
USD
The dollar moved in accordance with risk appetite yesterday but once again with no clear direction. However, we could see some safe haven demand for the US dollar following some weak US data and concerns on how companies are due to perform.
The Philadelphia Federal Reserve manufacturing survey outlook for business conditions dropped to the lowest since 1979 showing signs of a slowing US economy as well as profit warnings from US corporates.
Another thing to note the robust job market in the US could be under threat with several big names cutting jobs or slowing hiring. Ford Motors are said to be preparing to cut as many as 8,000 jobs in the next few weeks, Microsoft is set to eliminate many job openings, Google are set to slow down the pace of hiring and Lyft will also be trimming jobs.
Data yesterday also revealed that jobless claims are now at an 8-month high.
Should this continue then we could well see the Fed slow down its monetary tightening cycle. The next Fed meeting is due next week.
Manufacturing and service PMIs are due out for release today.
Chart of the day
Following on from the 0.5% rate hike by the ECB yesterday we saw the projections for the year end interest rate hike spike. However, following comments made by the ECB that the year end rate is going to remain the same, we saw market pricing move back towards the 1% mark – back to where we started. Thus we saw all gains in the euro yesterday following the rate hike completely erased.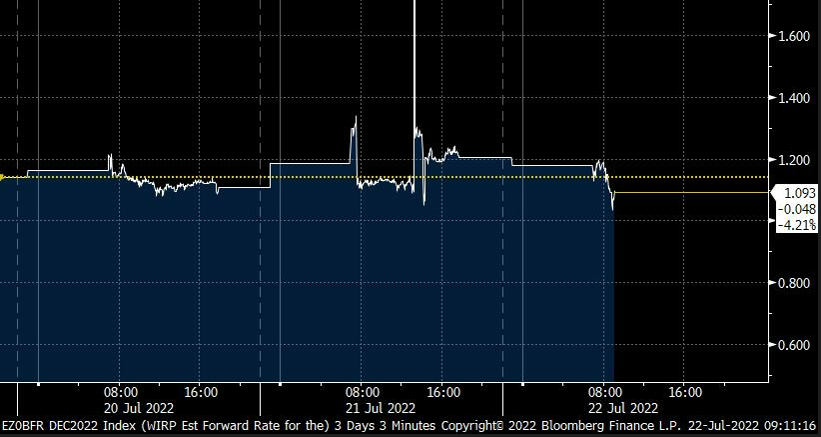 Market rates
Today's Interbank Rates at 09:34am against sterling movement vs yesterday.
| | |
| --- | --- |
| Euro | €1.177 ↑ |
| US dollar | $1.195 ↑ |
| Australian dollar | $1.728 ↓ |
| South African rand | R20.28 ↓ |
| Japanese yen | ¥164.2 ↓ |
Have a great day.