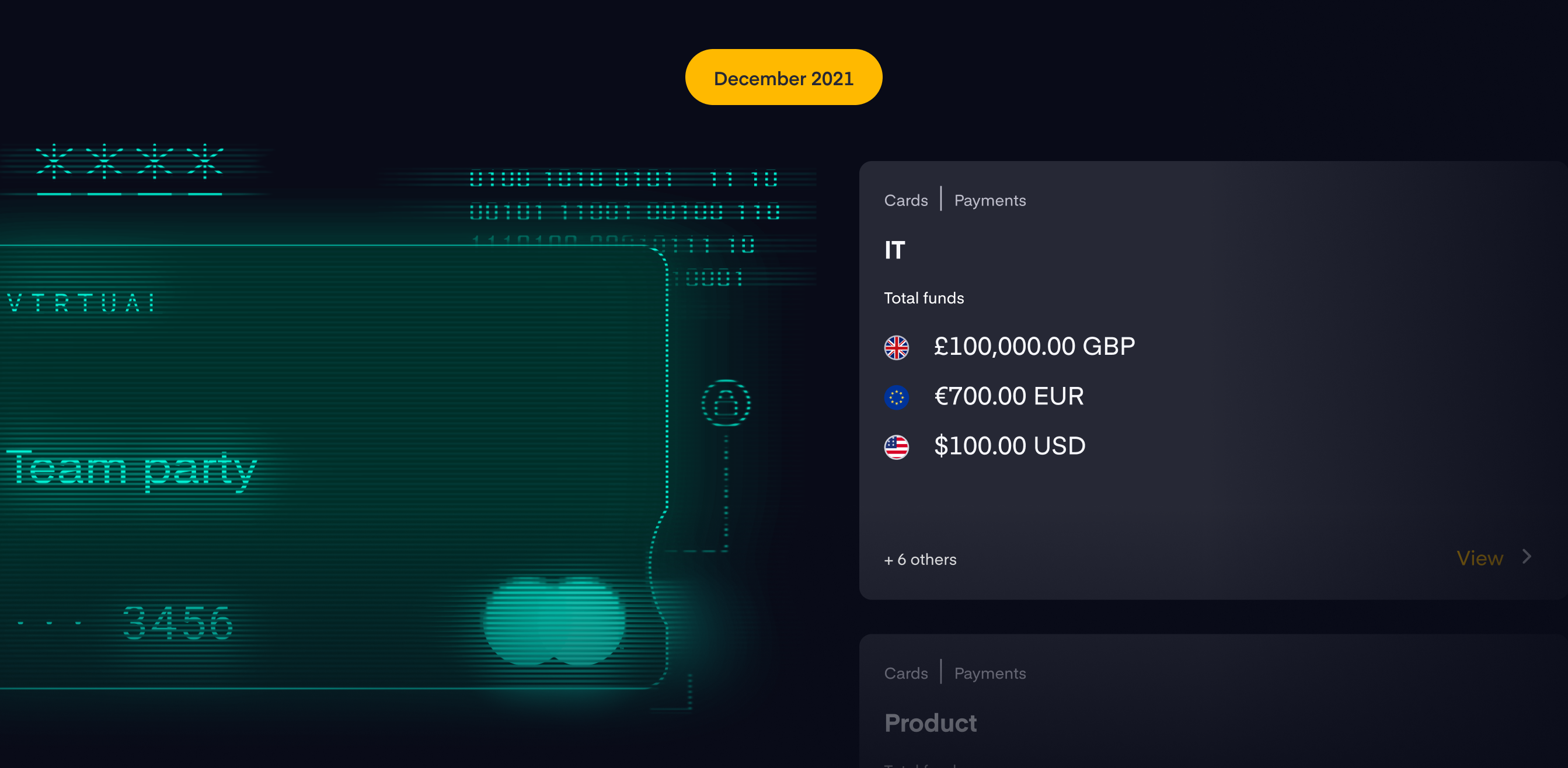 Equals Money newsletter: December 2021

Welcome to the Equals Money newsletter, where we tell you about all the new and exciting updates we have in the works and team news.

Product News
Equals Money has updates coming to our cards and platform in the new year that will make money management even easier for you. Read more to find out how we're making things better for your business.

Virtual cards are a new and exciting feature coming soon from Equals Money. Our virtual cards will be able to spend from 21 currencies held within Equals Money balances. You'll be able to use them to pay for online purchases.
With the launch of virtual cards, we'll be introducing two versions: shared and individual cards.
Shared cards will be the first iteration of virtual cards. With shared cards, you can pay for key use cases such as online advertising or subscriptions.
Individual cards will come after shared cards. These can be assigned to a specific person on your team and used for online purchases.
What are the benefits?
Virtual cards come with a range of features for added convenience, security, and enhanced money management abilities, and not to mention, they're more environmentally friendly than a piece of plastic. They make spending simpler for your business, and with Equals Money virtual cards, you'll be able to access all kinds of features like spend limits or subscriptions locked to certain retailers.
Want to find out more about virtual cards? Get in touch with us today.

Next year, we're launching a feature called Balances on the Equals Money platform. Using Balances, you can separate funds to be segregated for different departments, teams, cost centres, projects, and more. Each Balance is multi-currency and has a unique reference allowing direct fund transfers from the outside world.
What are the benefits?
Balances will give you greater control of company spending. You adjust access permissions per Balance to ensure funds are used securely. Balance Managers can control their allocated funds which ensure accountability with all transactions and actions available in the system.
They'll allow you to forecast and manage cash flow for multiple departments in your business, all on one platform. You'll have complete control of your business' finances: not only will you see who's spending what and where, but you can also allocate that spending ahead of time. Balances are one more way we're making our platform more streamlined, accessible, and easy to use.
Want to find out more about Balances? Get in touch with us today.

Team news

We're excited to announce that Equals has significantly exceeded full-year expectations for both revenues and adjusted EBITDA.
More than that, our growth is accelerating, with revenues +51% for the year to date and +105% between the 1st of October and the 6th of December 2021.

Equals Money has recently partnered with C Free, an environmental consultancy, to turn our workforce carbon neutral. With C Free's assistance, we've offset the carbon emissions our workforce produces not just during work but also during their usual yearly activities. This is just one step we're taking in our journey to becoming a more sustainable company.

We have a new Head of Sales at Equals Money: Suki Singh.
"When I first started working, the sales team sat on the desk opposite me. They always seemed to be having a great time, so I asked their manager how I do what they do, and he offered me a trial role. I've been in financial sales ever since.
"I always enjoyed the thrill of the chase, speaking and meeting with key decision-makers of multinational companies and closing business. I progressively began training and mentoring new staff and so my role switched to building, developing, and leading sales teams. After interviewing with Equals, I was sold and wanted to be a part of the journey. I'm really pleased that I am here".
Fun fact
"Outside of work, I enjoy gardening, reading, watching films, and spending time with my family and friends. Guilty pleasure - I'm a huge EastEnders fan".
Want to learn more about how Equals Money can help your business?