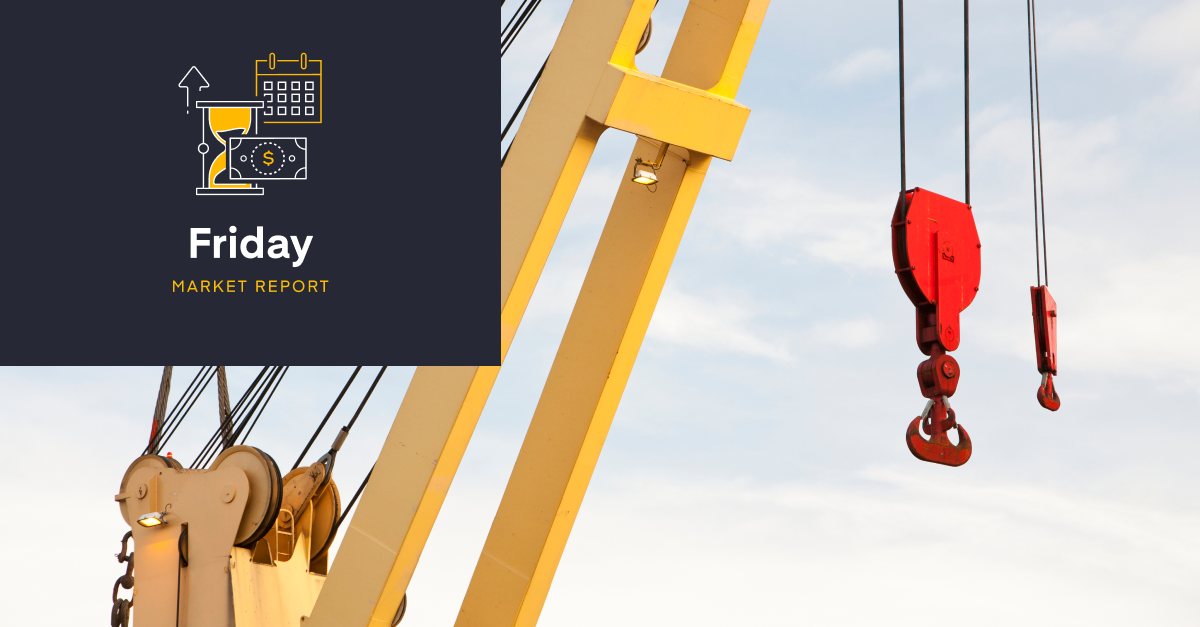 Euro caught up in political drama

GBP: Sunak, Mordaunt lead Tory race
EUR: Italian politics causes volatility
USD: Fed members talk down 1% hike
Sterling
Very quiet on the data front from the UK yesterday with moves on the currency dictated once again due to risk flows.
In the race for the Tory leadership another round of voting showed Rishi Sunak (101 votes), Penny Mordaunt (83 votes), Liz Truss (64 votes), Kemi Badenoch (49 votes) and Tom Tugendhat (32 votes) all through to the next round. All five candidates will be taking part in a TV debate on Channel 4 at 7.30pm.
No additional data to look out for today.
Euro
The EURUSD parity level was forcefully broken through yesterday afternoon with a new 20-year low seen on the pair. We mentioned yesterday another potential negative for the euro could be the divisions in the Italian government and it seems this is what finally caused the second break in two days.

After the Five Star Movement walked out of a confidence vote in the Senate, news emerged that Mario Draghi went to meet President Sergio Mattarella to hand in his resignation. Italian 10-year bond yields spiked, and the euro came crashing down.

However, the move was short-lived as a few hours later it emerged that Draghi's offer to resign was rejected by Mattarella in a bid to quash a political crisis. Italian bond yields dropped off and the euro regained its footing.

The euro also benefitted from a recovery in risk appetite, as equity markets reversed earlier losses following Fed Wallers comments (see below) concerning US rate hikes.
Earlier in the day, the European Commission cut its growth forecasts for the single-bloc revising growth in 2022 down marginally to 2.6% from 2.7% and growth in 2023 down to 1.4% from 2.3%.
No data out today with next Thursday, potentially pivotal for the euro. Focus will fall on the ECB's first rate hike since 2011 as well as an eager wait on details of the ECB's anti-fragmentation tool. The ECB meeting coincides with the hopeful resumption of the Nord Stream 1 pipeline.
USD
Fresh highs were seen on the dollar early afternoon as bets of a 1% hike later this month increased to 72%. However, the dollar was sold off once Fed member Waller spoke in Idaho. Waller's view was that the June inflation figure backs his view that 0.75% rate hike only is needed and that no snap judgements should be made on one set of figures. He also stated that markets have got ahead of themselves in pricing a 1% hike in July and that he believes that the Fed shouldn't overdue rates. The views were echoed later in the evening by Fed member Bullard who also backed a 0.75% hike.

Market bets of a 1% hike dropped sharply from 72% all the way down to 32%, with the dollar index dropping also with EURUSD and GBPUSD rates recovering off their lows. Market bets of a 1% hike this morning have dropped further to 25%.

Today's retail sales, according to Waller, will be one of the key data points in the Fed's decision on what kind of hike to implement at the July 27th Fed meeting. Markets expect retail sales to increase to 0.8% in June from a 0.3% fall in May. We also wait for the University of Michigan indices on consumer sentiment and inflation expectations.
Chart of the day
Italian 10-year bond yields climbed over 8% at its peak yesterday as risks for a political crisis in Italy intensified. Following news that Draghi's offer to resign was rejected we saw yields drop but still remain over 3.5% higher than yesterdays opening.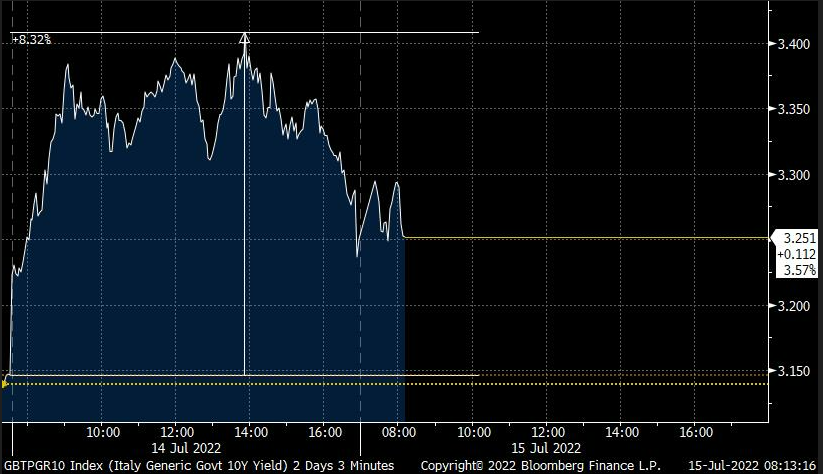 Market rates
Today's Interbank Rates at 09:12am against sterling movement vs yesterday.
| | |
| --- | --- |
| Euro | €1.179 ↓ |
| US dollar | $1.183 ↓ |
| Australian dollar | $1.760 ↑ |
| South African rand | R20.43 ↑ |
| Japanese yen | ¥164.2 ↓ |
Have a great day.