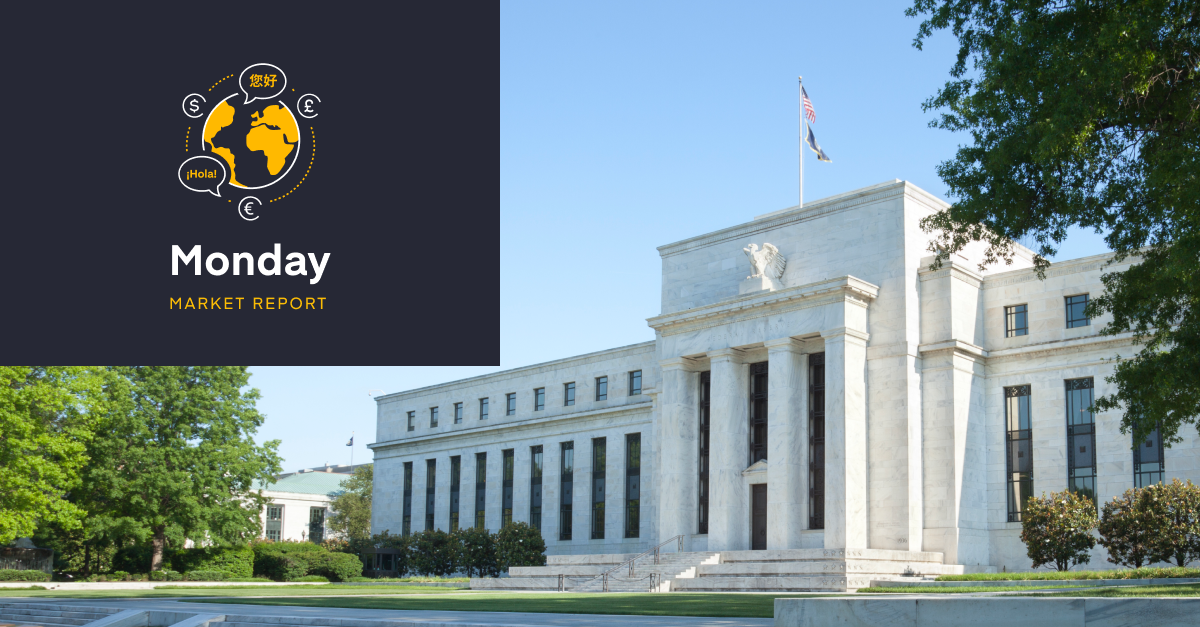 Fed in focus

GBP: Truss and Sunak first TV debate
EUR: Growth and inflation in focus this week
USD: Will the Fed change hike stance?
Sterling
Retail sales and PMI composite figures on Friday came in better than expected and were supportive of the pound. Although growth is slowing in both the manufacturing and service sectors, they aren't slowing as much as analysts have been expecting.
Looks like a quiet week for the pound with no significant domestic data out. Liz Truss and Rishi Sunak will hold their first head-to-head TV debate today. Polls put Truss in the lead now but as we have seen recently Sunak has been a better performer in earlier TV debates.
Sterling will look to take cues from risk appetite and sentiment as well as being dictated by moves on other currencies.
Euro
French, German and EUR service and manufacturing composite PMIs on Friday all came in lower than expected suggesting slower economic growth for the third quarter of this year. The PMI data is now at the lowest since March 2021. The euro weakened as a result off the back of the data but managed to reclaim some of the losses later in the afternoon following the disappointing US data in the afternoon.
The euro value is relatively stable at the moment following a very volatile week with a snap election being called in Italy, the ECB hiking rates by 0.5% and the Nord Stream 1 pipeline reopening.
German IFO business confidence fell this morning, now at the lows last seen in the summer of 2020 following the recent concerns of Russia cutting off gas supplies. This would usually be seen as euro negative but the euro is actually drawing support after the ECB's Kazak's comments this morning that 'big' rate hikes may not be over for the ECB.
Consumer confidence figures are out on Thursday with the week rounding off with second quarter GDP and inflation figures out on Friday.
USD
Ahead of this Wednesday's Fed interest rate decision, bets for a rate hike above 0.75% dropped as did the odds for a 0.75% rate hike in September, now down to a 30% chance. PMI data forming both the service and manufacturing sectors fell to the lowest since June 2020 with the data suggesting a composite of both sectors now actually contracting.
Adding on to recent corporates suggesting slower hires or even job cuts in their respective businesses, thoughts are now turning to the notion that perhaps the Fed may well now have to consider economic growth concerns in their guidance for future interest rate hikes i.e. could the Fed be pivoting from an aggressive hike cycle to one where they have to balance economic growth as well as high inflation? Find out more about rate hiking cycles here.
The dollar index dropped to 5th July low as a result.
The World Health Organisation declared Monkeypox a "public health emergency of international concern", so developments on this are worth keeping an eye on particularly on risk appetite and whether the US dollar gets support on safe-haven demand.
For the rest of the week, housing data and consumer confidence figures will be in focus on Tuesday, durable good orders out on Wednesday, 2nd quarter GDP figures on Thursday and then the Fed's preferred measure of inflation, the core PCE index.
Chart of the day
As the end-of-year interest rate projections have increased over the first six months, as has the value of the US dollar. Should the Fed indicate slower pace/size of additional interest rate hikes this year, could we see the US dollar weaken off?

Market rates
Today's Interbank Rates at 09:51am against sterling movement vs Friday.
| | |
| --- | --- |
| Euro | €1.176 ↓ |
| US dollar | $1.201 ↑ |
| Australian dollar | $1.731 ↑ |
| South African rand | R20.14 ↓ |
| Japanese yen | ¥163.8 ↓ |
Have a great day.