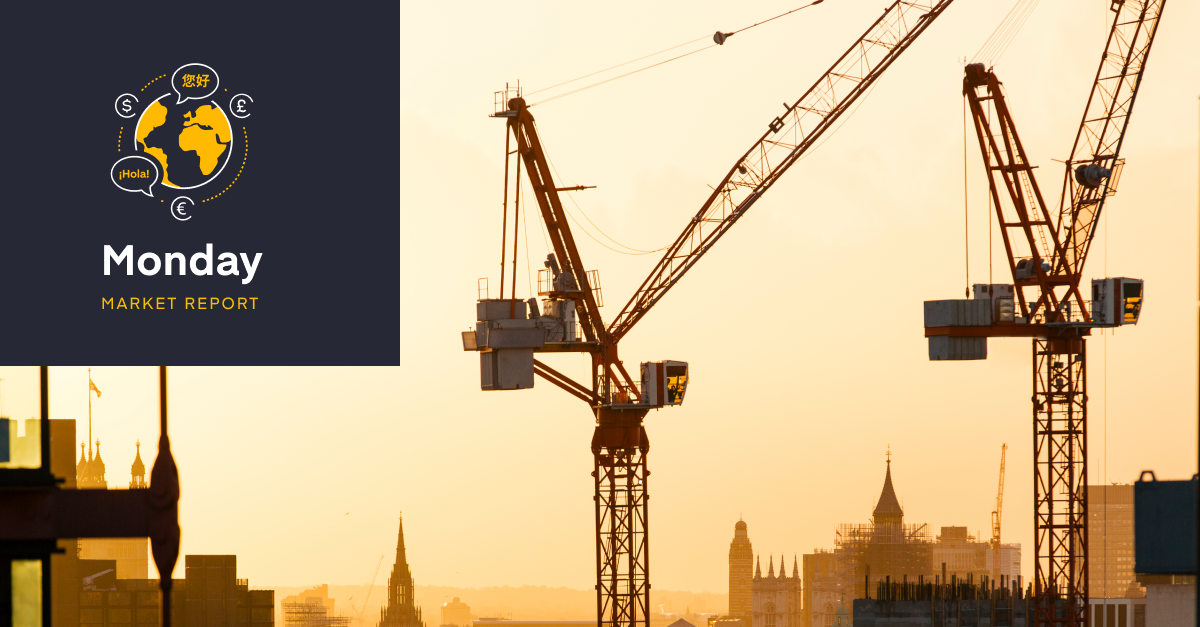 G7 leaders hope to agree oil price cap on Russia
GBP: Key topic is Bailey's speech on Wednesday
EUR: ECB forum will take centre stage
USD: Inflation reading on Thursday may tilt the Fed's rate direction
Sterling
Last week's CPI figures were the headlining act for the UK's economic lineup, however, the pound failed to make up any ground with the figure finalising in line with expectations at 9.1%. Markets now price in less than 3% by the end of 2022, but expectations of a 50bps hike may fall as the concern of killing the domestic economy looms greater as fuel, energy and food prices climb at the fastest rate for 40 years. PMIs surprised markets as the Manufacturing data slightly missed its forecasted figure and services data 0.4% better than expected, however, UK economic data was quickly in the red again as retail sales plunged to -0.5%.
The UK data calendar is quiet this week with all attention being on central bank speakers. MPC member Cunliffe speaks midday tomorrow, however, Governor Bailey is speaking at this week's ECB forum on Central Banking. Considering the rapid moves in interest rate pricing, markets will want to see if the three central bank's comments align as they discuss managing inflation while attempting to limit the damage on the economy and growth.
Euro
Christine Lagarde started last week by testifying to the European Parliament where her forward guidance helped marginally strengthen the euro. Red flags continue to pop up for Europe as German growth was cut from 3.6% to 2.2% and with Russia likely to switch off the supply, talks of winter rationing sounded the alarm bells. German and French PMI data didn't relieve any weight off European shoulders as both figures missed the forecast by over 2%.
European Central Bank President Christine Lagarde will take the focus for this week speaking Tuesday, Wednesday and Thursday at their yearly forum. The Eurozone's inflation figures are likely to direct the euro's path towards the back end of this week, however, I would suspect Lagarde's comments will take precedence over any euro moves as the growing concern of a recession will be this week's focus.
USD
Jay Powell delivered his semi-annual testimony last week and, no surprise, mirrored the Fed's comments to tackle the rising inflation figure until they see clear evidence of the figure falling. The dollar did struggle to make any gains as Powell alluded to the growing risk of a US recession, however, he changed his stance by saying the Fed would avoid tightening so much that it "throttled the economy". The story of an economic slowdown continued over the Atlantic as PMIs for the US also missed their mark, fueling the slowdown worries within the States.
G7 leaders meet today for a summit in the Bavarian Alps, in which they hope to agree a price cap on Russian oil as they continue to fight Moscow's ability to finance its war in Ukraine.

The US data calendar starts today with durable goods orders which are set to fall and consumer confidence forecasted at 100 from the previous 106.40 reading. Thursday's PCE meeting will be closely watched as the US's preferred reading of inflation, measuring goods and services consumed by individuals and ISM manufacturing will close this week's data calendar for the US.
Market rates
Today's Interbank Rates at 09:42am against sterling movement vs Friday.
| | |
| --- | --- |
| Euro | €1.163 ↓ |
| US dollar | $1.230 ↑ |
| Australian dollar | $1.774 ↓ |
| South African rand | R19.48 ↓ |
| Japanese yen | ¥166.2 ↓ |
Have a great day.