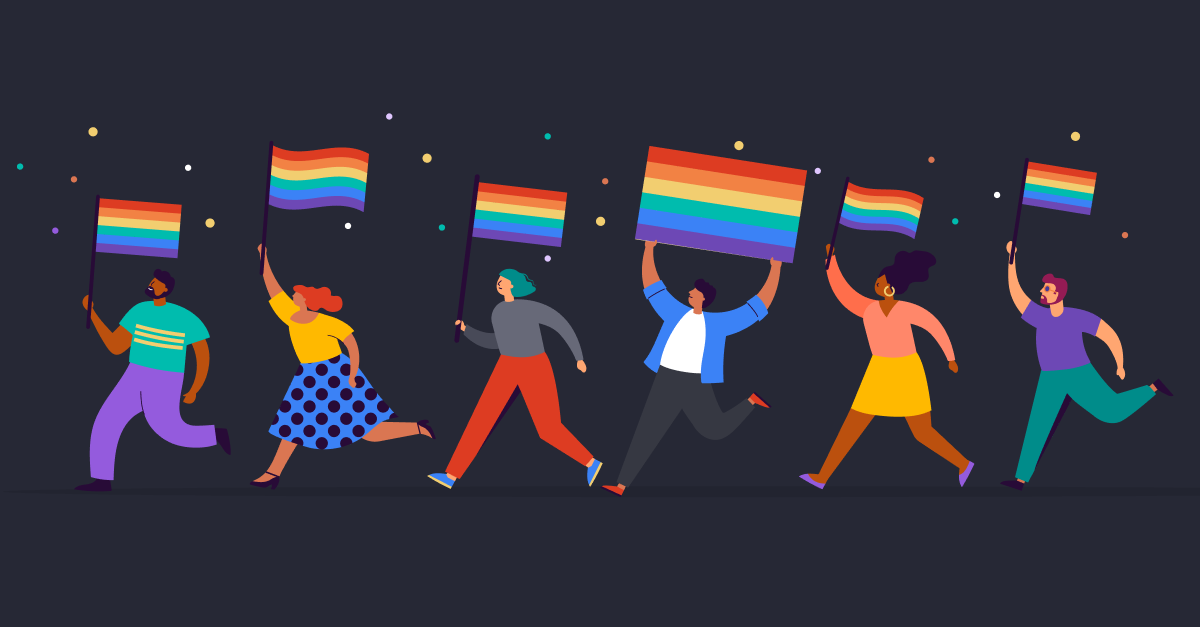 How we celebrated Pride 2022 at Equals

At Equals Money, we celebrated Pride in a way that started with our own community in the business. We wanted Pride to about more than just changing the logo on our socials, so this year, we looked inward to see what we could do to raise awareness.
Pride posters
Helping employees to understand the history and importance of Pride as a movement was where we started. We put up posters around our office talking about the history of Pride and its importance to the community, written by members of the LGBTQ community from Equals.


Flags on Slack

We use Slack across the business to communicate with each other. Every day, a different team member sent into our company-wide Slack channel with 250 members a different Pride flag with an explanation of the identity and its origins. These ranged from the flags such as lesbian, gay, bisexual, and transgender and expanded to include things like demisexual and pansexual. Employees could then put these flags next to their names, along with our custom Equals Pride logo, to identify or show solidarity.


Survey and LGBTQ+ history

We sent around a survey internally and invited employees to share responses to events in LGBTQ+ history. The aim of this was to get a sense of how events of history affect people today and how the experience of LGBTQ+ people within our own community might differ.

In response to the legalisation of gay marriage in the United Kingdom:

"I want to get married one day. I grew up seeing people that loved each other getting married, and I don't think sexuality should have anything to do with your rights to be with the person you love. I am incredibly grateful that people fought for our rights." - Raph, Growth Manager, Performance

In response to it being the 50 year anniversary of the first Pride march in the UK:

"This was the start of the modern Pride movement and had it not been for the efforts of those who dared to stand up, then my life and many of my friends may be considerably worse off than they are today." - Michael, technical support and continuity lead
Raising money for charities
Fundraising

In addition to our company-wide education efforts, we've raised money for local charities using Pride celebrations in the office to fundraise. We don't want our efforts as a company to be just about changing a logo or writing a blog post.

We've raised nearly £500 for charity. We're sending money to CW+, which is the charity arm of the Chelsea and Westminster Hospital and West Middlesex University Hospital and are currently fundraising to keep providing their services, which provide mental health, wellbeing and sexual health services to everyone, but specifically support LGBT+ clients and provide them with testing, treatment and support. We're also donating money to Phoenix Chester, which is a charity that helps young people (13-19) who identify as part of the LGBTQ+ community or anyone who questions their identity to meet and connect with their community.

Our CEO Ian Strafford-Taylor says:

"At Equals, we want all employees to feel supported, encouraged, and celebrated. It's for this reason that Pride month is so important to us. We want to create an environment for LGBTQ+ individuals to contribute to the best of their abilities and feel secure in their identities. As a company, we acknowledge the challenges facing LGBTQ+ people. We're committed to investing in the forward movement of LGBTQ+ rights both within our company and in our greater community. Our work towards true equality is never finished, but we're committed to continue listening, learning, and building."

There's always further to go when it comes to something like this. Pride month might be over, but we're excited to keep working on making both our workplace and the world around us a better place.
Want to learn more about life at Equals and our company culture?