Key dates in the economic calendar: November 2022

For better or for worse, major political and economic events will affect currency and the movement of exchange rates. Recent events ranging from stand-alone incidents such as the resignation of two prime ministers and the resulting fluctuation of the pound to long-standing troubles due to Brexit and Covid cause rates to become volatile and currency to fluctuate. These fluctuations can cut into a business' profit with unfavourable exchange rates leading to losses.
You can't control what happens in the market - but you can control how you manage volatility and take care of your company. One of the things you can do is look ahead to key dates in the economic calendar to try to predict changes.
Economic calendar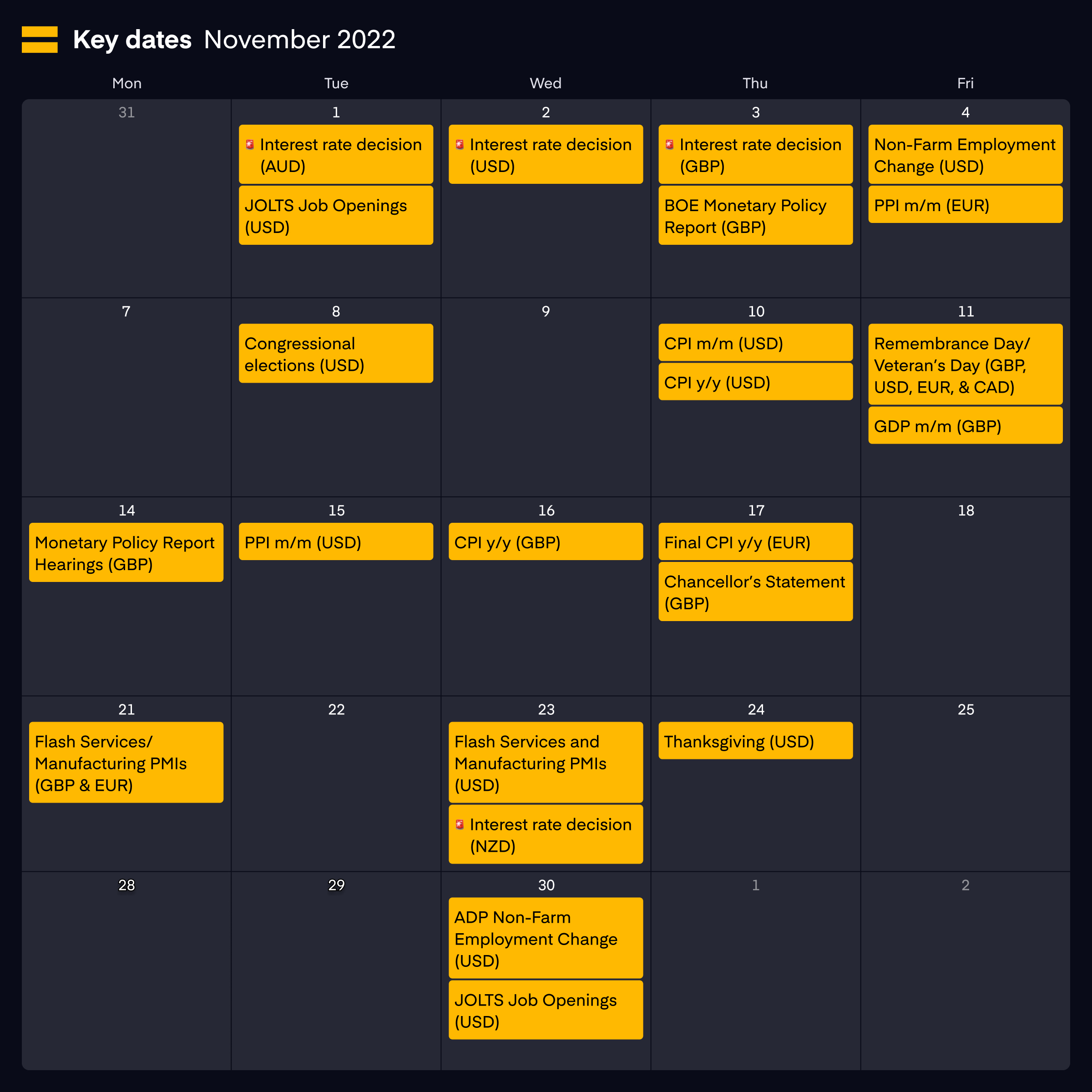 These are the major dates to look out for during the month of November 2022 that might affect any international payments:
1/11/22 - Interest rate decision (AUD)
1/11/22 - JOLTS Job Openings (USD)
2/11/22 - Interest rate decision (USD)
3/11/22 - Interest rate decision (GBP)
3/11/22 - BOE Monetary Policy Report (GBP)
4/11/22 - Non-Farm Employment Change (USD)
4/11/22 - PPI m/m (EUR)
8/11/22 - Congressional elections (USD)
10/11/22 - CPI m/m (USD)
10/11/22 - CPI y/y (USD)
11/11/22 - Remembrance Day/Veteran's Day (GBP, USD, EUR, & CAD)
11/11/22 - GDP m/m (GBP)
14/11/22 - Monetary Policy Report Hearings (GBP)
15/11/22 - PPI m/m (USD)
16/11/22 - CPI y/y (GBP)
17/11/22 - Final CPI y/y (EUR)
17/11/22 - Chancellor's Statement (GBP)
21/11/22 - Flash Services/Manufacturing PMIs (GBP & EUR)
23/11/22 - Flash Services PMI (USD)
23/11/22 - Interest rate decision (NZD)
24/11/22 - Thanksgiving (USD)
30/11/22 - ADP Non-Farm Employment Change (USD)
30/11/22 - JOLTS Job Openings (USD)
What do these dates mean?
Any of these dates in the calendar can affect the market, either positively or negatively. These effects will all be different, and it's impossible to predict how exactly foreign exchange will react. However, what's for certain is that any kind of major political or economic events, regardless of outcome, can have knock on effects on currency and lead to rate volatility.
The change of exchange rate between a common currency pair within a short period of time, such as movements between the pound and the dollar, is what's known as rate volatility.

You can read more about rate volatility and how these changes can affect your business here.
Volatile currency and your business
If you're a UK-based business, you might not think you need to worry about foreign exchange. More importantly, you might not have the time or resource to pay attention to the markets. However, even if you don't export your products, if you operate within a globally competitive industry, changes in exchange rates can still affect operating profits. Additionally, a number of products you use might be priced in another currency - for example, many digital services are priced in dollars. With the cost of living where it is today, you can't afford to be losing out due to volatile exchange rates.
You can read more about how the rising cost of living is affecting your business here.
Hedging solutions and how we can help
At Equals Money, we offer a number of tools to help your business manage challenges around currency fluctuations associated with major world events. Not only do you get a dedicated account manager who will monitor the markets for you and alert you to any movement in your chosen currency pairings, but you'll also have access to a range of hedging options to combat an unstable market.
For instance, a method of hedging we offer is what's called a forward contract. Simply put, a forward contract allows your business to fix an exchange rate for a future overseas payment. You can lock in an exchange rate for typically up to 24 months, and the fixed rate is protected from any future currency movements in the market. This means you know exactly the exchange rate you're getting for a set time, which helps you predict cash flow and forward planning and budgeting.
You can read more about forward contracts here.
The current political and economic climate is unstable, and instability only makes it more difficult to stay on top of your business finances.
By looking ahead to key dates and letting Equals Money help you manage the risk associated with foreign trade, you can let us think about what's happening in the outside world and your business can focus on business.