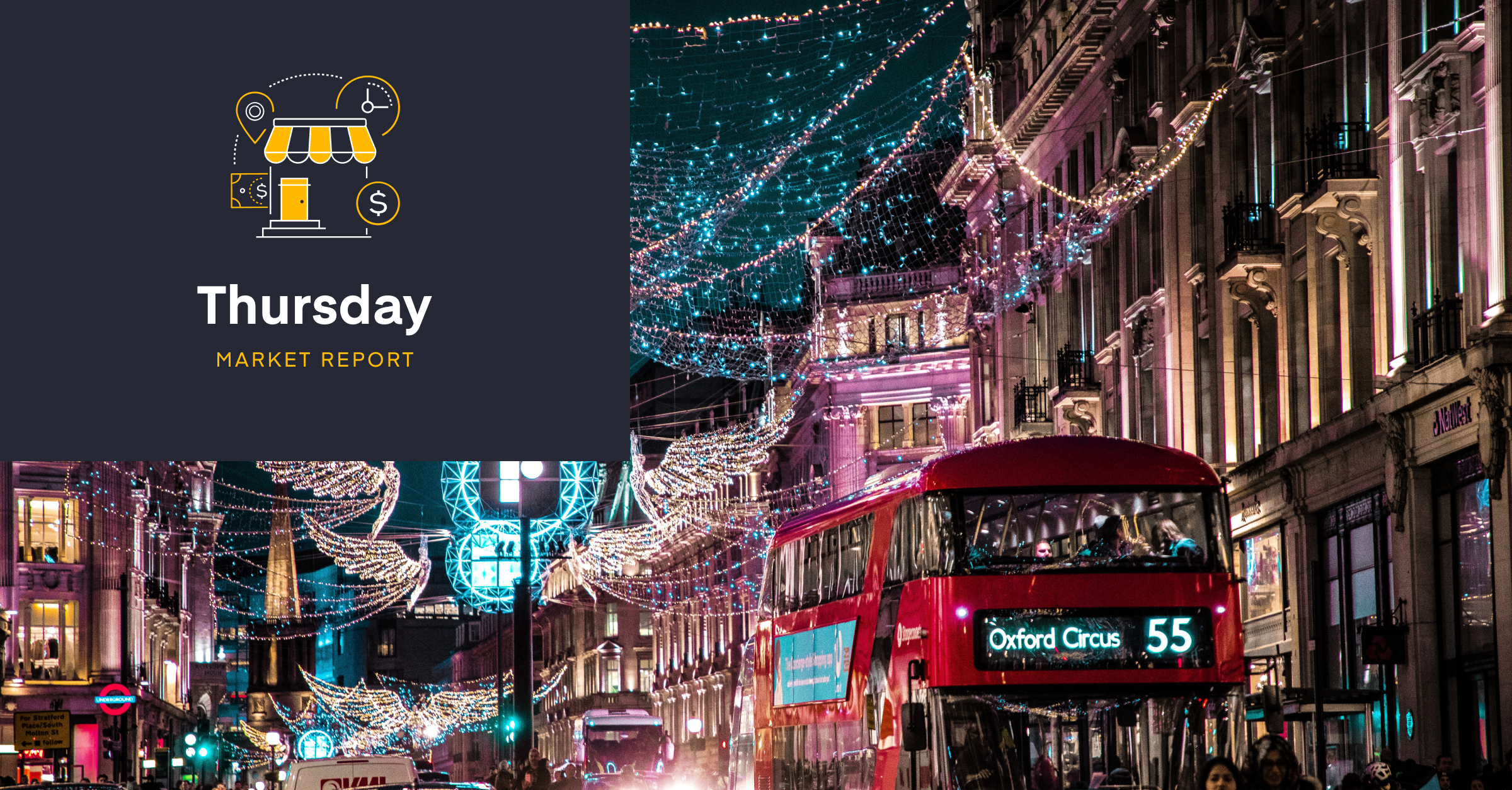 Markets getting into festive spirit

- Powell signals risk of over tightening
- USD closes at worst monthly performance in a decade
- Risk appetite on the up
Yesterday
Eurozone inflation comes in lower than expected, now at 10% versus an expected 10.4%. Market pricing for December's hike is now closer to a 0.5% hike. The EUR retreated off highs versus the USD during the morning session.


USD continued to gain after GDP came in 2.9% vs 2.6% expected, US job openings fell to 10.3 million, and Core PCE inflation for the third quarter came in higher at 4.6% vs 4.5% expected. ADP payroll numbers did come in lower, but

USD

weakness from this was very short lived.


Fed Chair Powell suggested a 0.5% hike in December, and that rate hikes will be slower for longer. We then saw a dovish tilt, with Powell suggesting he doesn't want to risk over tightening and damaging the economy. USD extended losses hitting prior support levels and the 200-day moving average.

Equities rallied off the comments, taking risk currencies along for the ride. Comments from Chinese authorities that they are entering a new phase, with the Omicron variant weakening as more people get vaccinated, also cheered markets.
GBP vs G10
Against rates at 17:00pm, 30.11.22.
| | |
| --- | --- |
| Currency pairs | Daily move (%) |
| GBPJPY | 0.41% |
| GBPSEK | 0.35% |
| GBPEUR | 0.07% |
| GBPDKK | 0.07% |
| GBPCAD | -0.24% |
| GBPUSD | -0.30% |
| GBPAUD | -0.34% |
| GBPNZD | -0.54% |
| GBPCHF | -0.56% |
| GBPNOK | -0.61% |
Today
Market rates
Today's interbank rates at 10:12am against sterling rates yesterday.
| | |
| --- | --- |
| Euro | €1.162 ↑ |
| US dollar | $1.214 ↑ |
| Australian dollar | $1.782 ↓ |
| South African rand | R21.02 ↑ |
| Japanese yen | ¥165.5 ↓ |
Data points
EUR German Retail Sales - Oct
Consensus: -2.80%
Previous: -0.90%
EUR German Manufacturing PMI - Nov
Consensus: 46.7
Previous: 46.7
EUR Unemployment Rate - Oct
Consensus: 6.60%
Previous: 6.60%
GBP Manufacturing PMI - Nov
Consensus: 46.2
Previous: 46.2
USD Core PCE MoM - Oct
Consensus: 0.30%
Previous: 0.50%
USD Core PCE YoY - Oct
Consensus: 5%
Previous: 5.10%
USD S&P Manufacturing PMI - Nov
Consensus: 47.6
Previous: 47.6
USD ISM Manufacturing PMI - Nov
Consensus: 49.8
Previous: 50.2
Speeches
USD – Fed Bowman

EUR – ECB Lane and Elderson
Our thoughts
So, the dollar finished November with its worst monthly performance in a decade. Data will be paramount this month if USD has a chance of erasing recent losses, as clearly we can see hawkish Fed comments aren't having the desired effect. Core PCE and manufacturing data will be closely looked at today as well as tomorrow's job data. As before, if we get data that is not supportive of the Fed keeping up with markets expectations of rate hikes, expect further USD weakness. We also need to remember the seasonal performance for USD, which tends to be negative.
Noise from China is still keeping optimism in markets and should that continue then AUD, NZD, and EUR should perform better. And, of course, that higher appetite for risk should be supportive for GBP.
Should market narrative continue to support a weaker USD, then please speak to your dealer to discuss how to take advantage of any higher moves against USD. Limit orders are always a good option for clients looking to take advantage of any rate spikes.
Chart of the day
Fed Powell now seems concerned about over tightening causing markets to lower rate expectations for next year. As a result the USD index once again tested the November lows.
Should data not supportive the Fed's narrative, then we could see the USD weaken into year-end.
Source: Bloomberg Finance L.P.
Have a great day.