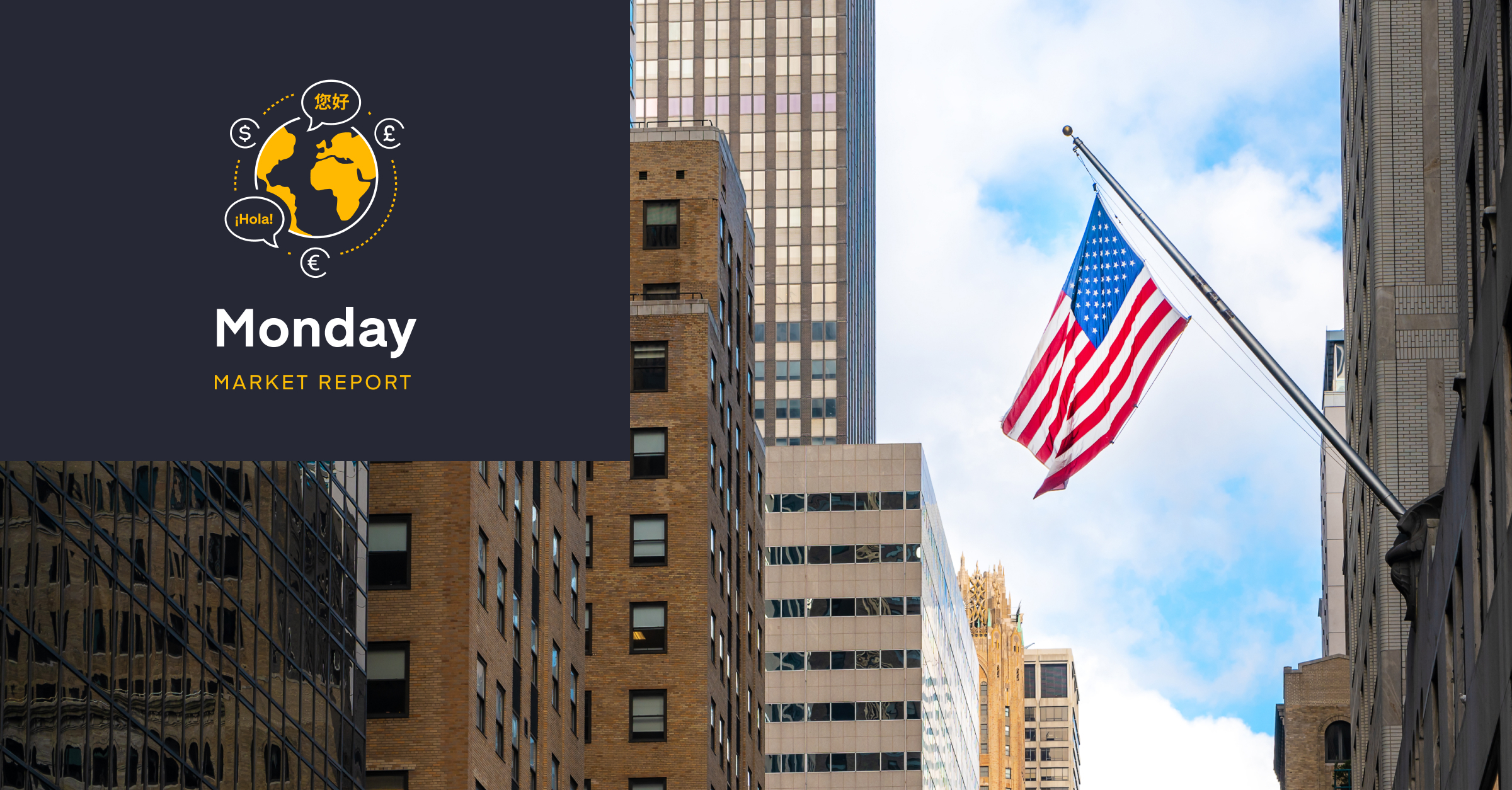 New PM, same problems

GBP: Markets wait to see if Truss is voted PM
EUR: On the backfoot as NS1 pipeline stays closed
USD: Strong jobs supports dollar
Want to know what key dates are coming up in the economic calendar this month? Read more here.
Sterling
Later this morning/afternoon we will have a new PM announced widely expected to be Liz Truss. Her appointment comes at a time with inflation at the highest amongst the G10 nations as well as a dire outlook for economic growth with a recession seemingly likely.
So what will her appointment mean to markets? The immediate concern will be battling the cost of living crisis. Changes in fiscal policy are expected with tax cuts and additional government spending but markets seem concerned on where the funding will come from.
Next is what she is likely to do with any changes in the Bank of England's mandate and the impact of this on confidence in the central bank.
And lastly, Brexit. We have seen in the past that Truss has been wanting to trigger Article 16 of the Northern Ireland protocol which could ultimately lead to a negative reaction by the EU.
Immediate tax cuts could well give the Bank of England freedom for larger or faster rate hikes to battle sticky and rising inflation. But as we have seen in recent weeks, higher rate expectations haven't been enough to give support to the pound. There is a dire growth outlook on the UK at the moment and until we see Truss (or Sunak) address this then sterling's outlook will most likely stay negative.
Services and composite PMIs are due this morning and we have BoE member Mann speaking in the afternoon. Sterling movements for the time being remain linked to risk appetite and equity market performance.
Euro
We saw the euro largely supported last week with falling gas prices and higher than expected inflation readings amping up the expectations for a 0.75% rate hike this Thursday.
However sentiment in the European gas market has turned negative again with Gazprom electing to keep the Nord Stream 1 pipeline closed for maintenance when it was widely expected it would reopen on Saturday. Whilst Germany has been preparing for a total shut-off of gas supplies from Russia by looking for alternative sources as well as having gas stores at 85% of capacity, the news is likely to weigh in on the euro over coming months. With risks of a recession rising and raising the prospects of rationing in the Winter,
Germany announced over the weekend a €65 billion support package to help households with higher energy bills as well as announcing they will disperse profits from energy companies in Germany. On Friday we have the EU emergency energy meeting.
The big event this week is the ECB interest rate decision. Markets are split over whether the Bank will announce a 0.5% or 0.75% rate hike on Thursday. The ECB is playing catch up with other central banks, especially with inflation continuing to rise in the bloc. On the other hand they may well seem hesitant to hike the eurozone into a recession. As a result we could well see the ECB do a 0.75% hike with emphasis on a front loading strategy.
Today, expect the market to be negative on the euro following the weekend news of the pipeline remaining shut. Data today is in the form of service and composite PMIs as well as retail sales figures.
USD
Friday's job report was welcome news for the Fed in their battle to lower inflation whilst avoiding a recession. 315,000 new jobs were added in August with a higher participation rate contributing to containing wage growth. As a result of the higher participation rate, the unemployment rate rose to 3.7% - a six-month high. Markets bets of a 0.75% hike in September remain the same.
Weaker risk sentiment in the market following news of the NS1 pipeline remaining closed has added to some safe haven flows for the dollar this morning.
No further data today on account of US labour day. For the rest of the week, we have several Fed members speaking later in the week as well as PMIs on Tuesday.
Chart of the day
A new PM is set to inherit an economy that's in a dire state, comparable to the 1970's. Inflation at 10.1% - the highest of all G10 countries, negative growth with a potential for the economy to fall into a recession and demand for the pound and UK government bonds very low.
His/her first two weeks will be closely scrutinised to see what they can do for the UK.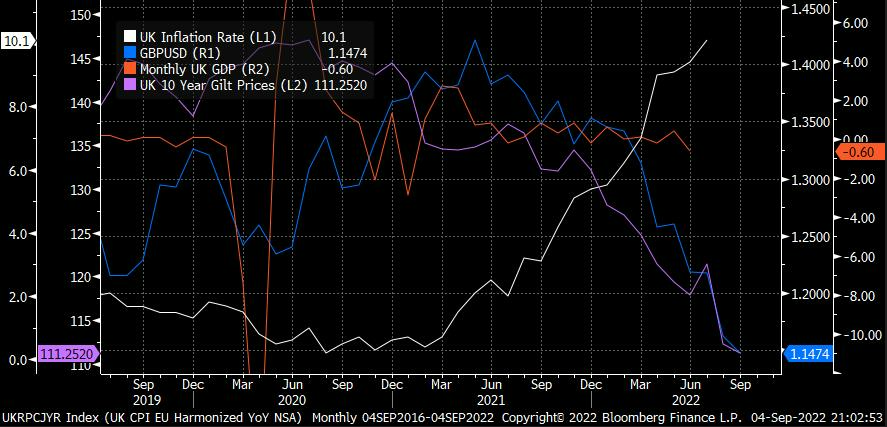 Source: Bloomberg Finance L.P.
Market rates
Today's Interbank Rates at 09:05am against sterling movement Friday.
| | |
| --- | --- |
| Euro | €1.158 ↑ |
| US dollar | $1.147 ↓ |
| Australian dollar | $1.693 ↓ |
| South African rand | R19.87 ↓ |
| Japanese yen | ¥161.3 ↓ |
Have a great day.