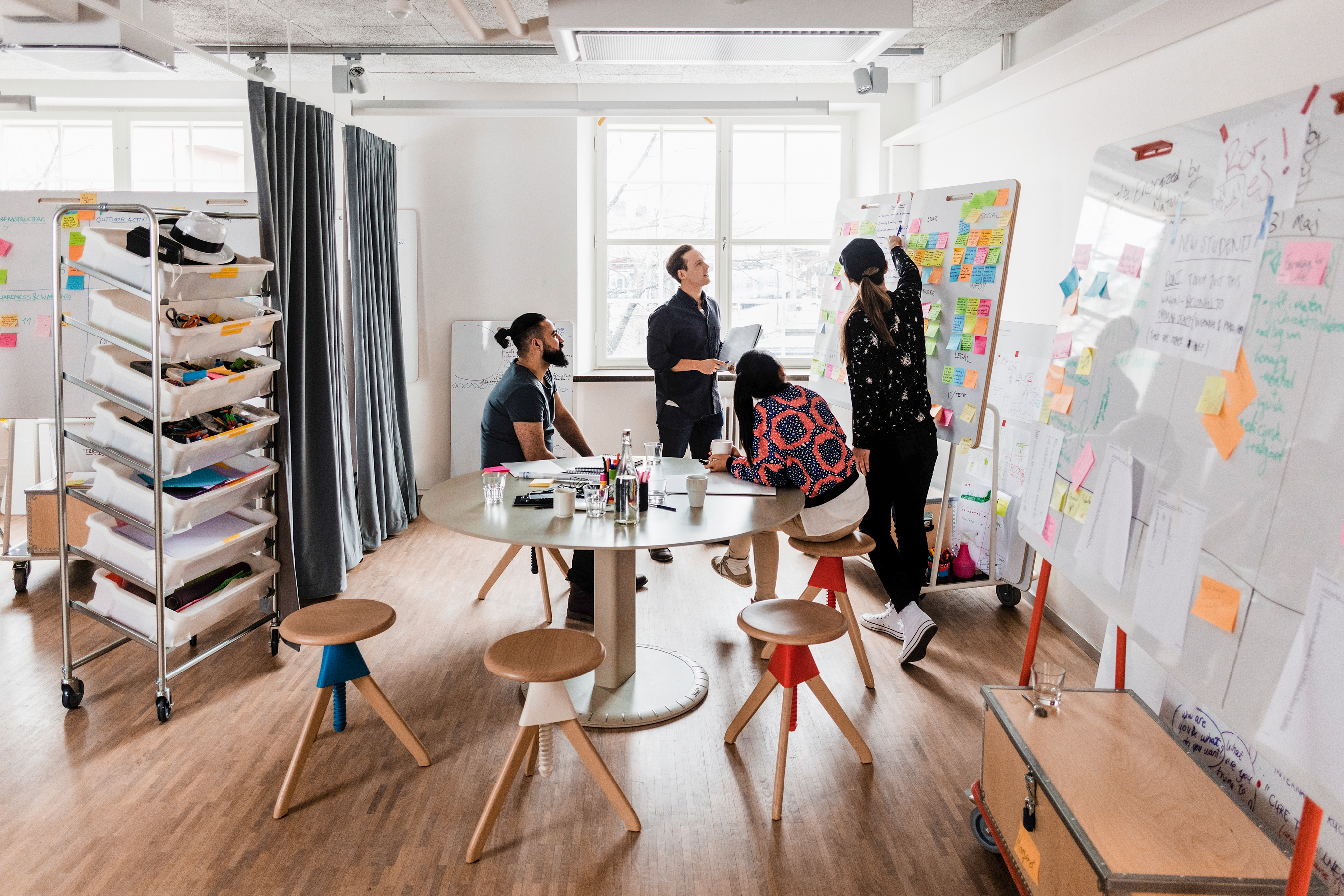 Product updates: What's out now, next, and later

Check in here to see all the new and upcoming changes to Equals Money products.
Out now:
Platform
My details:
What are we changing?
We're adding a page to your Equals Money account to allow you to edit your personal information without needing to get in touch with our customer service team. You can add a profile picture to your account, update your email and password whenever needed, change your mobile number, and customise marketing communication preferences.
For Equals Money business accounts, you can also edit your job title and employee number if you have one. If you have accounts with us across multiple businesses, you can change details to suit each business separately.
Why are we changing it?
This update will give you better control and make it easier for you to personalise your Equals Money account. Giving you access to make basic changes to your own account information without needing the help of the Equals Money customer service team is one more way we're making Equals Money simpler and easier for you to use.
New Overview page: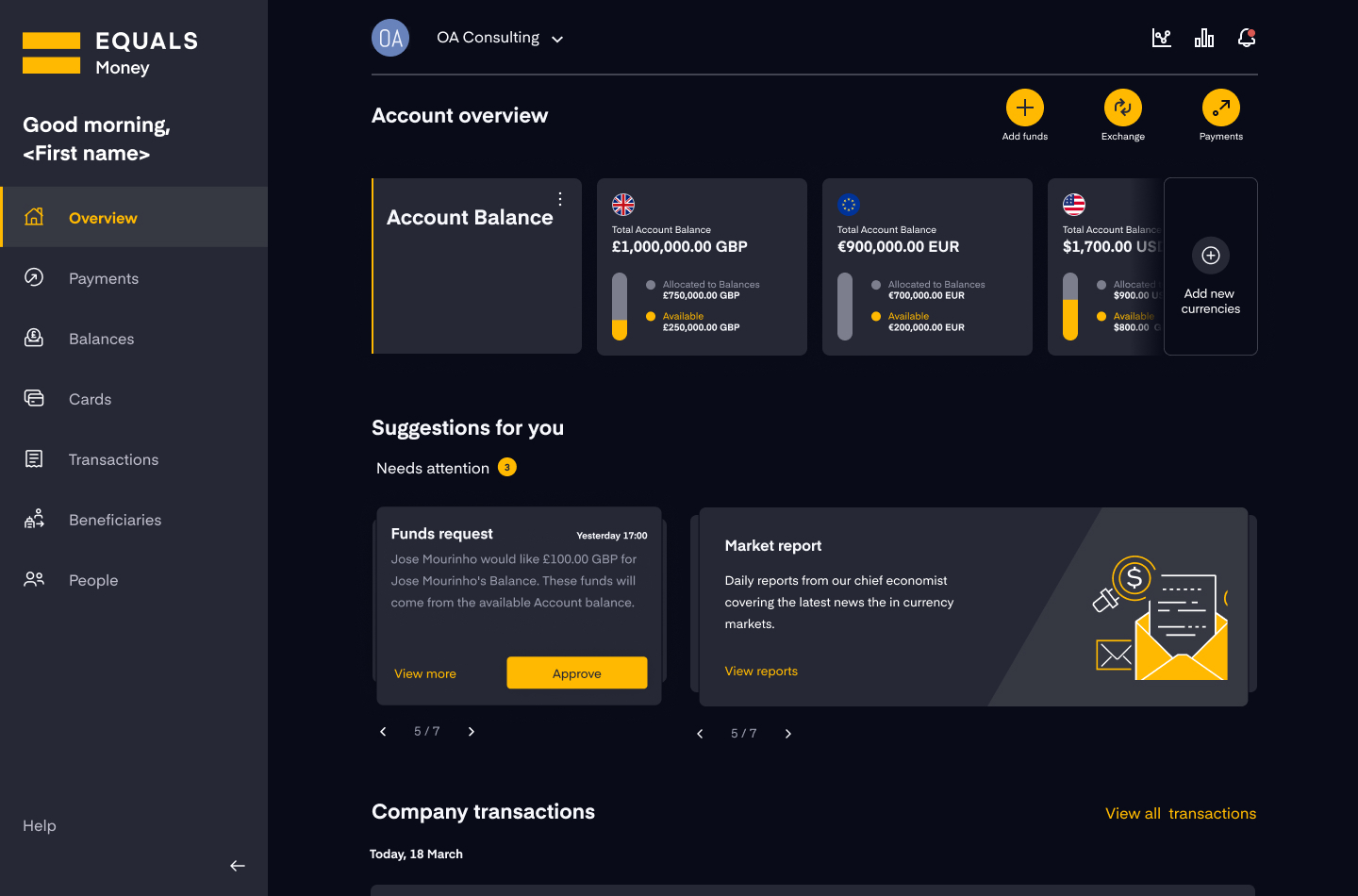 What are we changing?
The existing balances dashboard in the Equals Money payments platform has been replaced by the new Equals Money account overview. In addition to a snapshot view of recent transactions and balances, we've added a "Needs attention" feature that gives a view of transactional items that need attention such as any payments to approve or orders to fund. You'll also find a link to market reports with the latest updates from our in-house chief market strategist.
Why are we changing it?
These updates give you a nicer landing to keep track of your Equals Money account. With this new overview, you can see all aspects of your account from a single snapshot. Managing money through your Equals Money account is even more simple and convenient.
Out next:
Platform
Integrated platform:
What are we changing?
We're combining the login for cards and payments services, which will change the look and URL of the Equals Money login page. If you're a cards customer, there's nothing you need to do on your end – your login details will remain the same.
If you use both cards and payments, we're unifying the login process so you can use the same email for everything. If you share an email address between the two platforms, you'll need to use your payments password. If you use two different email addresses, you can get in touch with us to link the two.
Why are we changing it?
We want to make using your Equals Money account as simple as possible. A single login streamlines your account and gives you quick and easy access to multiple platforms. It will also make it easier to access and activate multiple products as Equals Money expands and adds new features. With an account that's easy to stay on top of, you can spend more time focusing on growing your business.
Out later:
Cards
Virtual cards:
What are we changing?
Virtual cards are a new and exciting feature from Equals Money. Our virtual cards will be able to spend from 21 currency balances held within Equals Money budgets. You can also set custom spend limits for your team on the virtual cards.
The first iteration of the EM virtual cards product will be Shared cards. Shared cards will bring our first Equals Money card product to life catering for key use cases such as paying for online advertising & online subscriptions.
The second iteration of virtual cards will be People cards, which can be assigned to a specific person to use for online purchases.
Our cards will be available to all current card and payment customers. Future versions will offer features such as subscription cards locked to specific retailers.
Why are we changing it?
Virtual cards make spending simpler for you and your business. They come with a range of features for added convenience, security, and enhanced money management abilities, and not to mention, they're much better for the environment. Enabling virtual cards is one more way we're making it easier for you to grow your business.
Platform
Balances: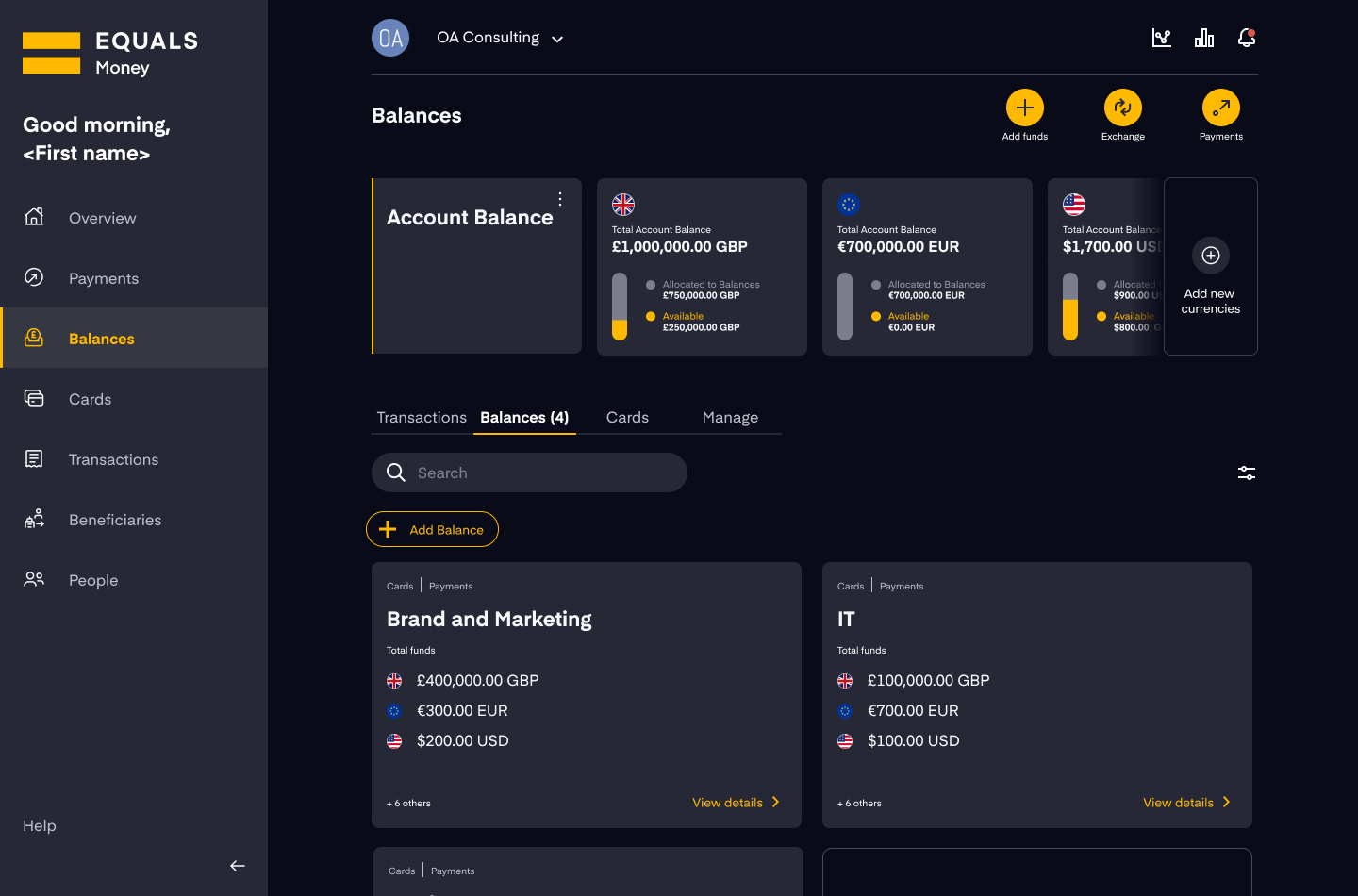 What are we changing?
Alongside virtual cards, the EM platform will have a section called Balances. Using Balances, you can separate funds within the Equals Money platform. Different Balances can be delegated to different departments, teams, cost centres, projects, and more. Each Balance is multi-currency and has a unique reference allowing direct fund transfers from the outside world.
You can also adjust access permissions per Balance to ensure funds are used securely. Balance Managers can control their allocated funds which ensures accountability with all transactions and actions available in the system.
Why are we changing it?
Balances simplify money management by allowing you to forecast and manage cash flow for multiple departments in your business, all on one platform. You'll have complete control of your business' finances: not only will you see who's spending what and where, but you can also allocate that spending ahead of time. Balances are one more way we're making our platform more streamlined, accessible, and easy to use.