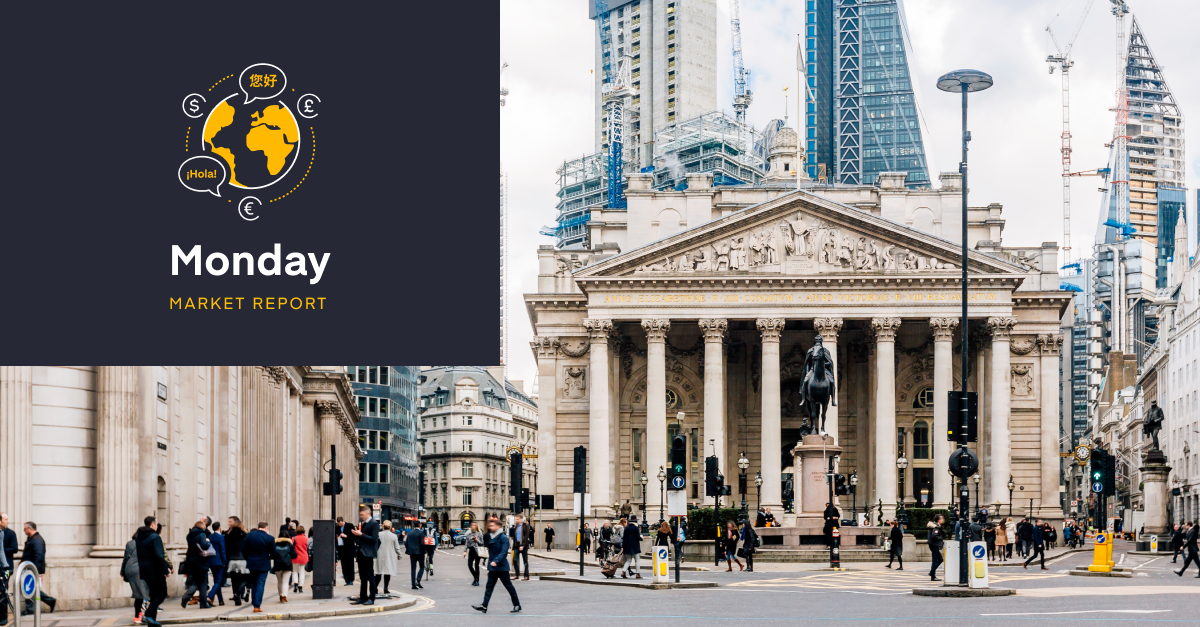 Spotlight on Bank of England

GBP: Bank of England to change stance?
EUR: Economy grows, boosted by tourism
USD: Dollar still weak ahead of jobs report
Sterling
Big week for the pound, with the Bank of England rate decision on Thursday. In the last BoE meeting, policy makers suggested that the Bank will act forcefully to get inflation lower. With inflation at 9.4%, it looks like we could well see a 0.5% rate hike.
But, as we have seen from the recent ECB and Fed meeting, the key driver for the pound will be what guidance (if any) the Bank gives on further rate hikes. Should they follow in a similar fashion and go on a data dependency stance and/or indicate no forward guidance, then we could see the pound weaken.
Other key points to look out for will be today's manufacturing PMIs, Wednesday's services PMIs, and Thursday's morning construction PMIs.
Euro
Data points from Friday showed that the economy grew by 0.7% in the second quarter, which is higher than the 0.2% expected. The economy doesn't seem to be slowing as initially feared, with the higher GDP boosted by a rebound in the service sector, as well as increased tourism.
Inflation in the Eurozone soared higher again to 8.9% as energy prices continue to remain high. With growth and inflation higher than expected, at the moment it would be hard to rule out at 0.50% interest rate hike in September – market pricing puts a 75% chance of this happening.
Retail sales from Germany showed sales fell by 1.6% in June.
Data points today to focus on are the German and EU manufacturing PMIs, as well as the unemployment rate.
We'll continue to keep an eye on gas prices as well in relation to their impact on the euro.
USD
The dollar got some brief support on Friday after the Fed's preferred measure of inflation, the personal consumption expenditure index, rose 6.8% in June with the core figure (excluding food and energy) rising by 4.8%, indicating that price pressures are not easing in the US.
The question that now arises is, has the market underpriced the number of rate hikes for the rest of the year? Last week, we mentioned that the market is only pricing in an additional 1% worth of rate hikes by year end. As per the Fed's advice, we shall continue to keep an eye on incoming data.
S&P and ISM manufacturing data is out this afternoon for the month of July, and on Wednesday we'll look out for the ISM services data. Also, this Friday we have the US non-farm payrolls and jobs report. Dollar moves this week will also likely be dictated by risk appetite and performance of equity markets.
Chart of the day
Ahead of the Bank of England meeting, we can see below how the market's expectations for the Bank of England's biggest rate hike in 27 years has fluctuated over the last month. Currently markets are pricing in at a 0.44% rate hike which suggests a 0.25% rate hike is expected as a minimum, with a 76% chance of a 0.50% rate hike.
Market rates
Today's Interbank Rates at 09:52am against sterling movement last Friday.
| | |
| --- | --- |
| Euro | €1.192 - |
| US dollar | $1.221 ↑ |
| Australian dollar | $1.738 - |
| South African rand | R20.15 ↑ |
| Japanese yen | ¥161.8 ↑ |
Have a great day.