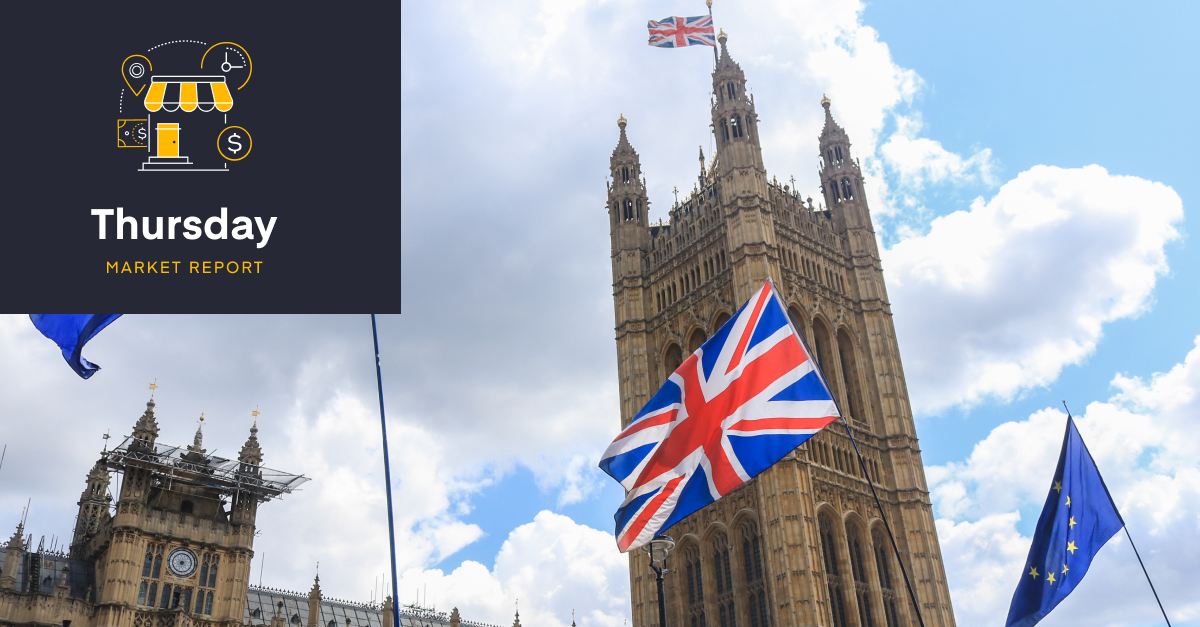 UK contracts in March and dollar still king

GBP: Governor and deputy at odds over rates
EUR: EUR slumps to April 2017 low
USD: Dollar still king
Sterling
Yesterday we mentioned that Brexit headlines were going to be one of the movers for sterling and indeed that's what we got yesterday. Following on from Liz Truss's comments in the morning, the EU retaliated by saying they are ready to suspend their post-Brexit trade deal should there be no agreement in the Northern Ireland protocol. Talks will continue today. Sterling as a result finished lower against the majors yesterday.

Data this morning showed the economy contracted by 0.1% in March with first estimates of growth for the first quarter coming in at 0.8%, shy of the expected growth of 1%.

The data will support Governor Bailey's comments last week that a slowing economy would mean that people will spend less, which in turn should slow inflation, meaning that the Bank may not have to raise rates more than forecasted. Although it seems that the Governor's thoughts are at odds with Deputy Governor Dave Ramsden who commented this morning that the Bank will have to raise interest rates further to control inflation. He added that the Bank has underestimated the jobs market, suggesting that it could be stronger than forecasted adding to price gains. Next week's job figures and inflation figures will no doubt be in focus.

What does this mean for the pound? Initially, the pound sold off following the GDP figures but since Ramsden's comments, sterling has drawn some support recovering some losses from yesterday.

So, for now we need to keep an eye on Brexit headlines, as well as comments from any BoE members and global risk sentiment, which for now remains risk-averse.
Euro
ECB president Christine Lagarde joined the July rate hike crowd after commenting that the ECB could be weeks away from starting to normalise monetary policy. Initial market reaction took the euro marginally higher but given recent comments by fellow ECB members, it appears that the market has already began to price in a live ECB meeting in June.

But overall, we are seeing the market sell the euro in favor of the US dollar, especially following yesterday's inflation print from the US.
USD
Inflation dropped in the US, but not as much as markets were anticipating, suggesting that the Fed still has some work to do to temper rising costs. As a result, we saw renewed buying into the US dollar as markets bet that the Fed will have to remain in their aggressive tightening mood. Rising inflation also saw falling equity markets, adding to the desire for the markets to continue to buy US dollars as a safe haven as well as developments in China, where we are seeing a lack of stimulus by the People's Bank of China as well as a shift in Covid policy.

The US dollar is still king in these markets, being mainly driven by developments in China, safe-haven buying and the markets betting on the Fed staying firm on their aggressive tightening.
Market rates
| | |
| --- | --- |
| Euro | €1.167 ↓ |
| US dollar | $1.219 ↓ |
| Australian dollar | $1.772 ↑ |
| South African rand | R19.78 ↓ |
| Japanese yen | ¥156.7 ↓ |
Have a great day.