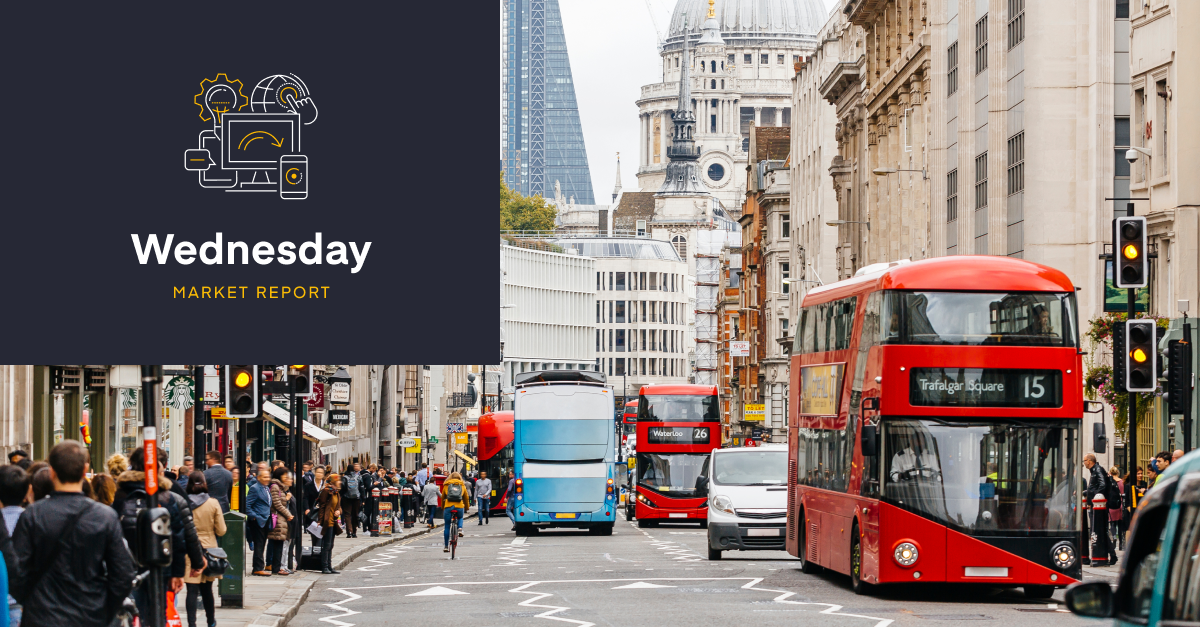 UK inflation rises to 9.4%

GBP: UK inflation still hot as BoE looks to hike by 0.5%
EUR: Nord Stream 1 relief and ECB hike of 0.5% buoys euro
USD: Housing data disappoints adding to woes for the dollar
Sterling
Inflation in the UK hit a new 40-year high in June rising up to 9.4% from a year earlier driven mainly by fuel (up 9.3%) and food (up over 1%) prices. Core inflation, stripping out food and energy prices, dropped from 5.9% to 5.8%. The data shows that prices are rising far more quickly than wages, intensifying the cost of living crisis.
With the next rise in the energy price cap due in October, we could see inflation peak to 11% in October, putting more pressure on the Bank of England to keep hiking interest rates.
BoE Governor Bailey spoke yesterday in Mansion House suggesting a 0.50% rate hike is on the table in August.
Following on from all this, money markets bets on a 0.50% hike in August remain the same at 100% and sterling remains relatively unchanged.
In the Tory leadership, the numbers have now been whittled down to three with Kemi Badenoch bowing out of the race. Liz Truss has tightened the gap for the second spot versus Penny Mordaunt with both now battling to win the support of the 59 MPs that voted for Badenoch. Another round of voting will occur today with the results due to be announced at 4pm. A YouGov poll suggested that the current leader in the votes, Rishi Sunak would lose to either Truss or Mordaunt once the numbers are whittled down to two.
Euro
The euro gained yesterday after reports confirmed that the ECB will be discussing an interest rate hike of 0.5%. Money markets have now priced in a 50% chance of such a hike in tomorrow's interest rate decision as well as pricing in 1% worth of hikes by September. As well as the interest rate decision, we await details of the ECB's anti-fragmentation tool when the Bank meet tomorrow. Find out more about fragmentation here.
The euro also benefitted from an initial report suggesting the Nord Stream 1 pipeline will reopen tomorrow albeit at a lower capacity. Before the planned maintenance works, NS1 was transporting only 40% of its usual capacity. The initial report was later acknowledged by Russian energy giant Gazprom as well as President Vladimir Putin. However, Putin also added that transportation capacity could be reduced to 20% until another turbine, currently held in Canada due to sanctions, is returned. European gas prices fell for the fifth consecutive day, now down 16% since the recent highs, suggesting some relief on the concerns of Russia cutting gas supplies.
On the domestic front, final readings of inflation were confirmed to remain at 8.6%.
Today's focus will be on Italian politics as Mario Draghi is set to address the nation and confirm whether he will be staying in power or he will resign. Should he do so then it's expected that a snap election called be called, which would commence around October.
We also wait for the EU to publish their contingency plans should Russia cut gas supplies into Europe. Yesterday, Bloomberg reported that the EU is considering plans to call on its member states to consider a voluntary 15% cut in natural gas use beginning next month. We await further news.
Since hitting new lows last week the single bloc currency has bounced back by 2.5%. For further gains to be seen in the euro, tomorrow we will most likely need to see a 0.5% hike with a hawkish ECB suggesting further hikes of this magnitude as well as details of the anti-fragmentation tool giving markets relief that such hikes will not cause bond yields in the more indebted nations to widen and of course, we wait to see to what capacity the NS1 pipeline has when it reopens.
USD
The dollar continued its recent weakness, now down 2.6% off the fresh 20-year highs we saw last week as risk sentiment continued in markets, where we have equity markets recover dramatically off recent lows. The S&P 500 and FTSE 100 are up 5.85% and 4.30% respectively since last Thursday.
Last week, Fed Waller mentioned that he will be looking at housing data as one of the factors that could influence a higher rate hike than 0.75%.
Yesterday new US home building activity fell to a nine-month low indicating a cooling housing market. As a result, we saw the chances of a 1% hike next week drop.
The next set of housing data is due out today at 3pm with existing home sales figures out.
Chart of the day
UK inflation soared to a new 40-year high of 9.4% today outpacing the wage growth figures that we had yesterday of 6.2% (including bonuses). The chart below illustrates the cost of living intensifying with wage growth dropping whilst inflation still rising.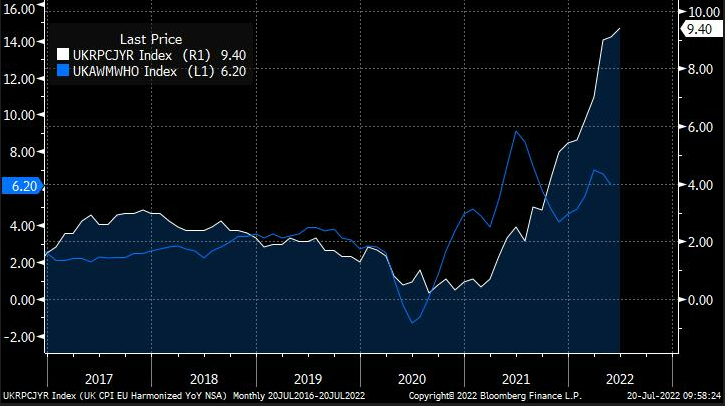 Market rates
Today's Interbank Rates at 09:58am against sterling movement vs yesterday.
| | |
| --- | --- |
| Euro | €1.173 ↑ |
| US dollar | $1.201 - |
| Australian dollar | $1.738 ↓ |
| South African rand | R20.58 ↑ |
| Japanese yen | ¥166.0 ↑ |
Have a great day.