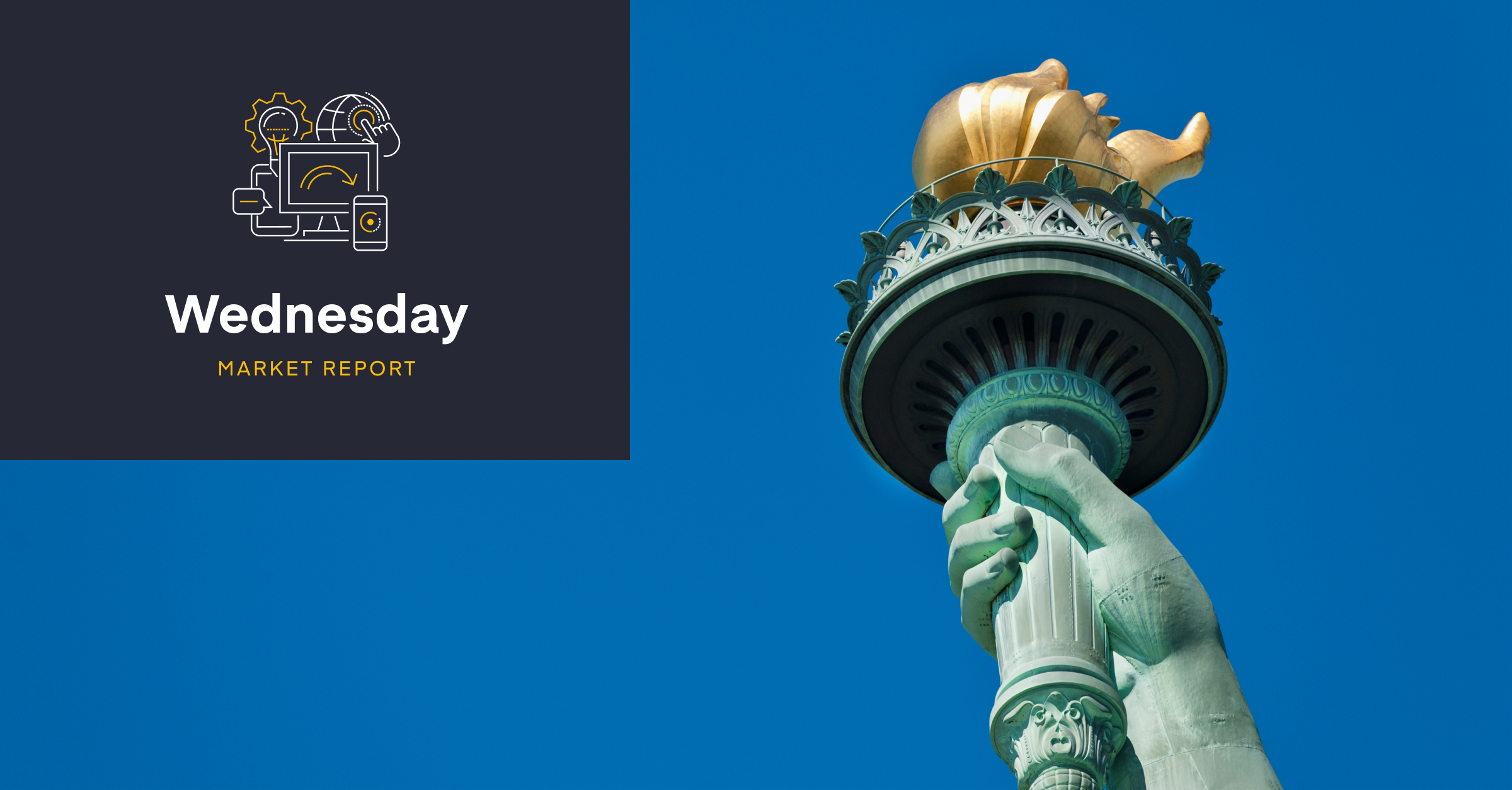 US data points in focus

- CAD sells off after RBC acquire HSBC's Canadian unit
- US data and Fed Powell in focus – dollar gains to continue?
- EU inflation expected to ease
Yesterday
The biggest move yesterday was the sell-off on CAD following RBC's acquistion of the HSBC's Canadian unit. The cash portion of the purchase is set to be CAD13.5bn, and with higher reported volumes this backs the view that the losses on CAD are attributed to this deal. Monthly GDP for CAD came in at 0.1% with the annualised third quarter coming in lower at 2.9% adding to the woes for CAD. GBPCAD currently sits at the best levels since April.
Market indecision was evident on USD as well. We saw the USD stronger in the morning, and then by the afternoon we saw USD attempt to gain beyond Monday's moves before finishing more or less the same as the open of the day.
German inflation data showed prices eased in November, with headline inflation down to 10% year-on-year vs 10.4% in October, and the monthly print fell by 0.5% - the most since early 2020. Spanish inflation also dropped more than expected which may contribute to a lower inflation print from the EU as a whole, lending to the argument for a 0.50% hike by the ECB in December.
GBP vs G10
Against rates at 17:00pm, 29.11.22.
| | |
| --- | --- |
| Currency pairs | Daily move (%) |
| GBPCAD | 1.34% |
| GBPCHF | 0.48% |
| GBPSEK | 0.38% |
| GBPUSD | 0.31% |
| GBPEUR | 0.14% |
| GBPDKK | 0.14% |
| GBPNOK | 0.02% |
| GBPJPY | -0.19% |
| GBPNZD | -0.31% |
| GBPAUD | -0.35% |
Today
Market rates
Today's interbank rates at 09:36am against sterling rates yesterday.
| | |
| --- | --- |
| Euro | €1.157 ↓ |
| US dollar | $1.199 ↓ |
| Australian dollar | $1.783 ↓ |
| South African rand | R20.33 ↓ |
| Japanese yen | ¥166.4 ↑ |
Data points
EUR Core CPI MoM - Nov
Consensus: 0.60%
Previous: 0.60%
EUR Core CPI YoY - Nov
Consensus: 5.00%
Previous: 5.00%
EUR CPI MoM - Nov
Consensus: 1.50%
Previous: 1.50%
EUR CPI YoY - Nov
Consensus: 10.40%
Previous: 10.60%
EUR Unemployment Rate (Ger) - Nov
Consensus: 5.50%
Previous: 5.50%
USD ADP Employment - Nov
Consensus: 200,000
Previous: 239,000
USD GDP Annual - Q3
Consensus: 2.60%
Previous: 2.60%
USD Core PCE QoQ - Q3
Consensus: 4.50%
Previous: 4.50%
USD JOLTS Job Openings - Oct
Consensus: 10250K
Previous: 10717K
USD Beige Book
Consensus: n/a
Previous: n/a
Speeches
USD – Fed Cook and Fed Chair Powell

GBP – BoE Pill

EUR – ECB Makhlouf
Our thoughts
So today sees the first set of US data that we've been talking about this week, as well as Fed Chair Powell speaking in the evening. With Fed Powell, we expect him to remain hawkish and reiterate that markets are underestimating the terminal Fed rate in 2023, as well as suggesting that December's hike is likely to be at 0.50%. Hawkish comments along with better than expected data today is likely to give USD further support, and allow the currency to continue its gains over the last four days.
The USD has suffered its worst monthly performance in a decade following that inflation print earlier this month - but, it was only one data print. Going into year-end ahead of the job numbers this Friday, November's inflation figures next week, and the Fed meeting the following week, markets will likely want to reposition themselves and take stock if whether indeed inflation in the US has peaked, and thus whether the market revise US rate expectations lower for next year.
As mentioned above, following the lower than expected inflation prints from Germany and Spain, markets expect EU inflation figures to be revised lower which will likely lower the rate hike expectation in December to 0.50%.
But, it will be the US data points and Fed Powell speech that will dictate market moves over the next few days.
Chart of the day
Coming into year-end, most of us are now most likely to be looking at what 2023 will bring. To know where we are going we need to take stock of what's happened this year, and the lessons that can be learned.
As we can see below, 3-month implied volatility on GBPEUR and GBPUSD not only steadily climbed throughout this year, but also spiked to Covid-19 and Brexit levels. Whilst the trend is our friend, volatility is certainly not.
In the current environment where we are all concerned about rising costs, business' should be looking at how they can reduce the amount of volatility in their FX exposure.
By having an appropriate hedging strategy and using forward contracts, businesses can add another layer of protection to their bottom lines and mitigate risk when dealing with transactions that have an FX element.
Source: Bloomberg Finance L.P.
Have a great day.