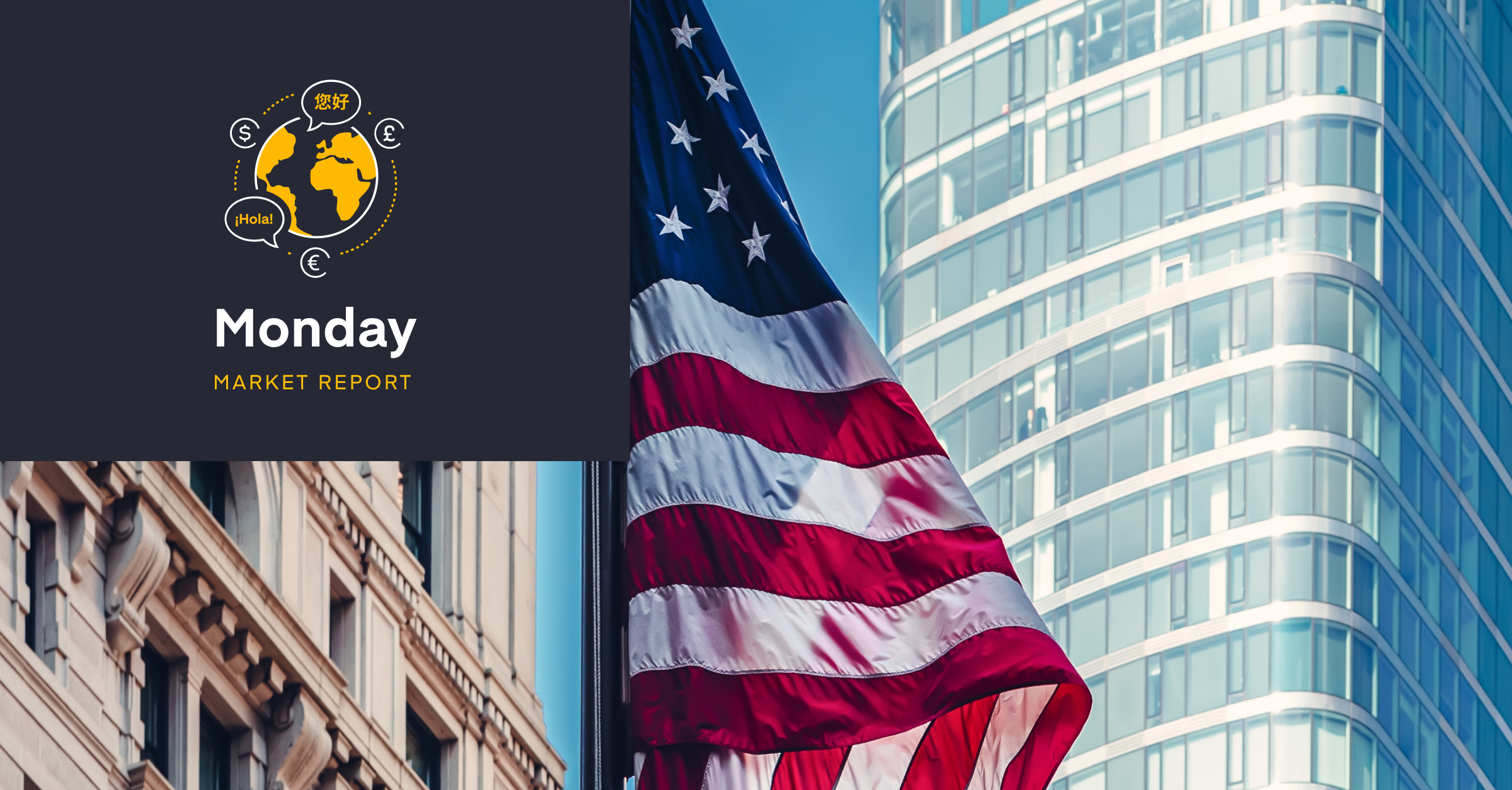 USD rebounds stalls

- US wages cause USD to weaken
- Signs of global inflation easing?
- UK growth in focus this week
Over the weekend
Following on from Thursday's better than expected ADP jobs report, markets were expecting a strong jobs number on Friday. So, whilst the data still suggests a strong job market, with the number of new jobs (223,000) and unemployment rate (3.5%) beating expectations, it was the lower than expected average hourly earnings of 4.6% versus an estimate of 5% that took the focus, causing the USD to be sold off.
ISM services PMIs also came in much lower than expected, with data revealing the sector contracted for the first time since May 2020, an indication that the US is heading into a recession – this added to the sell-off on the USD.
GBPUSD rose by 1.3%, erasing losses from Thursday. Equities also rallied as a result, taking most GBP pairs higher as well.
Europe's headline inflation dropped more than expected to 9.2%, but it's the core inflation reading of 5.2% that will keep on stoking need for the ECB to keep its hawkish stance for interest rate hikes. GBPEUR tested October support for the third time, before higher risk appetite following job numbers in the US caused a rebound on the pair. But nonetheless, the divergent policies between the Bank of England and European Central Bank should keep the EUR well supported.
Today
Market rates
* Daily move - against G10 rates at 17:00pm, 08.01.23
** Indicative rates - interbank rates at 17:00pm, 08.01.23
Data points
Speeches
USD – Fed Bostic

GBP – BoE Pill
Our thoughts
Focus remains on USD this week, with Fed Chair Powell set to speak tomorrow and the much-awaited US inflation print on Thursday. As we have been mentioning over the last week, recent fundamentals were building towards the hawkish Fed and its stance that markets are underestimating how much the Fed will raise interest rates this year. But, those lower hourly earnings and that contractionary ISM services print have cast doubt into this, causing the USD to erase gains from last week. As ever it's the core inflation print that markets will be focusing on, and a weaker number will no doubt cause markets to wage more so on a 0.25% hike in February, thus causing the USD to sell off further.
Also, this week we have inflation data from Australia, China, Japan, France, and Spain. Last week's lower European inflation print has added to the argument that perhaps global inflation is starting to ease, and should this week's figures lean towards this then we could well see equities climb higher, taking GBP higher with it as well.
However, we still must be weary of the state of our own economy, and on Friday we'll get a glimpse of economic growth in the UK for November. October saw a rebound of 0.5%, but current estimates see the UK shrinking by 0.1% in November. A softer print here, and this will add to the notion that the UK is set to have the deepest recession amongst G7 economies this year.
Chart of the day
In the build up to Friday's data points, we saw hints that markets were willing to bet on a stronger USD, with markets testing prior resistance levels and teasing to break out of its sideways trading range. However, Friday's wage and ISM services numbers really knocked the wind out of the USD's sails, causing the dollar index to retrace to the lower end of this trading range. Indecision on the USD is clearly in play again, and this week's inflation print will be important to dictate direction on the USD.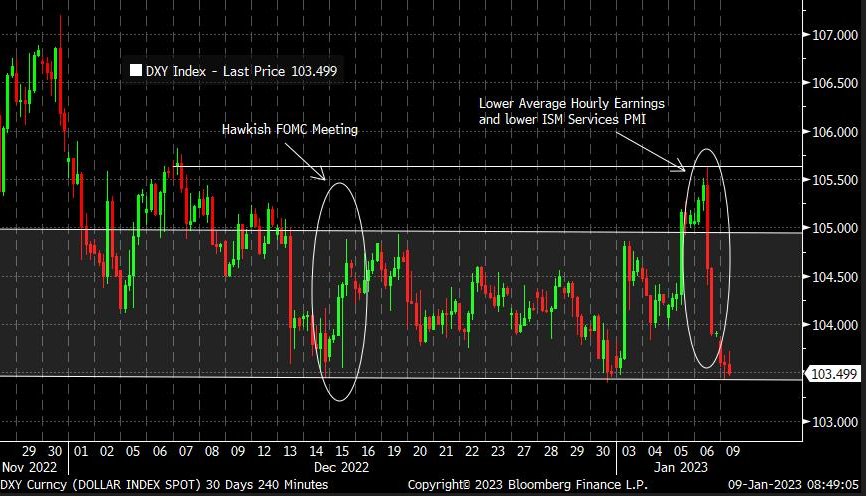 Source: Bloomberg Finance L.P.
Have a great day.