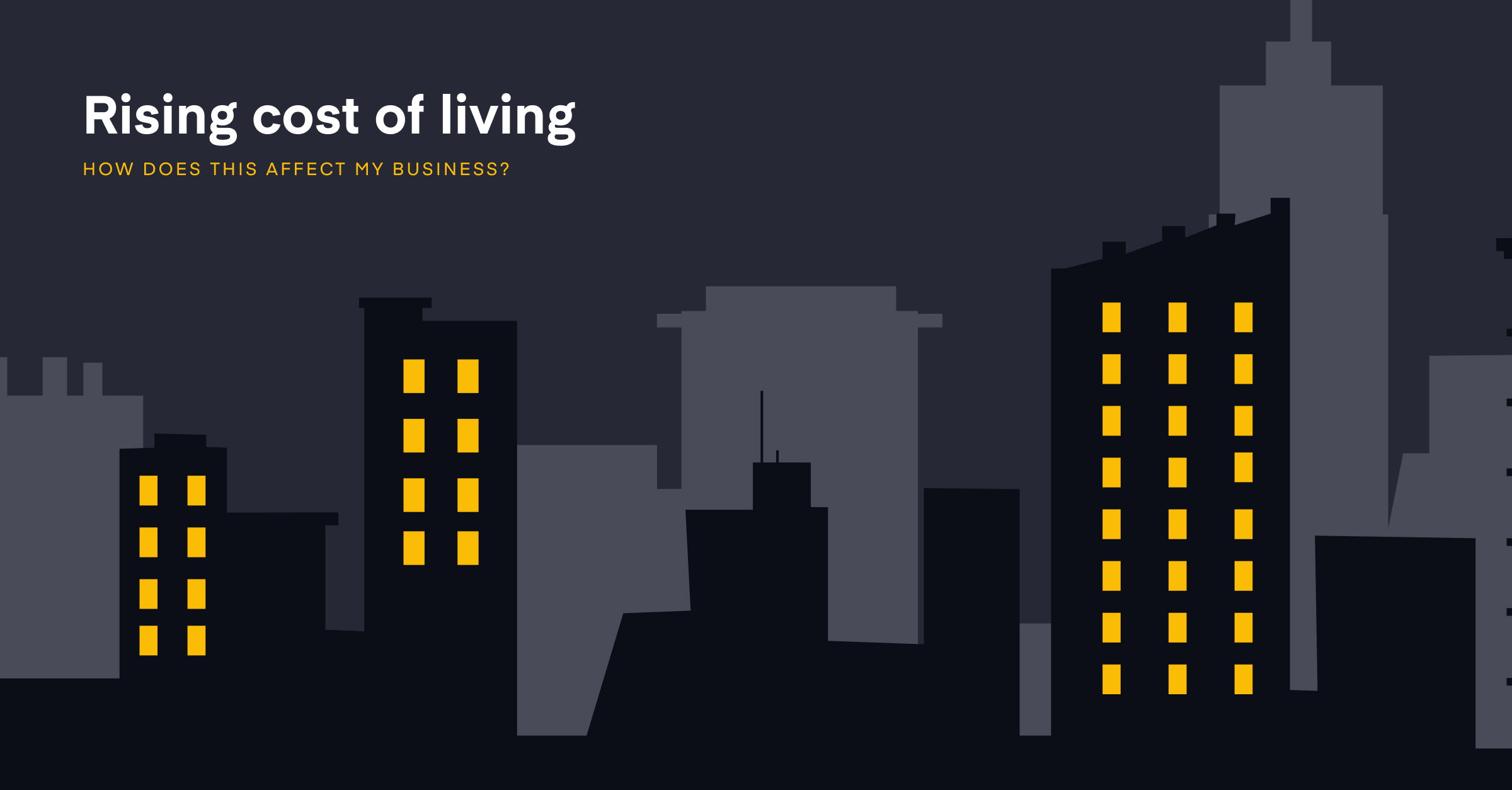 What does the rising cost of living mean for my business?

The negative effects of the rising cost of living can be amplified when it comes to business owners - you want to increase profits while contending with rising costs both for your company and as an individual. With costs rising across the board, it's more difficult than ever for businesses to take care of finances.
Equals Money commissioned research1 to see how the cost of living has affected businesses in everything from the services they look for to how they manage cashflow. The conclusion is that businesses have had to make changes - 91% of businesses say they are making some kind of a pivot in terms of how they operate their company. From in-house currency expertise to help you decide when to make your international payments to an online platform and prepaid cards to monitor employee spending in real time, an account with Equals Money can help your business through the rising cost of living.
Challenges facing businesses
92% of UK businesses say that they're facing cashflow struggles. The top causes in today's climate of inflation and the rising cost of living are reported to be:
Rising energy prices (

22%

)
Supply chain issues (

20%

)
Late payments from customers or suppliers (

18%

)
Reduced customer demand (

18%

)
Rising interest rates (

18%

)
With challenges to managing cashflow, it becomes even more difficult to stay afloat with prices going up across the board.
Over the past two years, costs have continued to rise, and most businesses (65%) anticipate that costs will continue to increase throughout 2022. The five cost areas business leaders report have increased the most are:
Insurance (

59%

)
Sales and marketing (

58%

)
Technology (

58%

)
Professional services (

58%

)
Tax (

57%

)
With the combined challenges of the past two years and the more recent spike in the cost of living, it's difficult to stay in business, let alone grow your company.
These difficulties keep a business down. Around a third of businesses expect further issues as a result of the cost-of-living crisis, including:
Difficulty meeting growth targets due to reduced sales (

35%

)
Increased in employee turnover (

35%

)
Increase in employees requesting pay rises (

34%

)
Changes to the prices of their products or services (

33%

)
Damage to employee morale (

32%

)
The continued effects of Covid and Brexit
Even years on, Brexit and Covid still continue to have negative effects on businesses.
Two in five business leaders report that both Covid (40%) and Brexit (40%) have increased their overall business costs.
Brexit has had the most significant impact on the cost of raw materials (43%), imports and exports (42%), and manufacturing and production (42%).
Comparatively, the biggest cost increases as a result of COVID-19 are in import and exports (42%), use of professional services such as accountants, lawyers and consultants (40%), and sales and marketing (39%).
The current cost of living crisis coupled with the remaining detrimental effects of Brexit and Covid means that business owners now more than ever need support when it comes to managing their money.
How can Equals Money help?
An Equals Money account can help you save time and money when it comes to managing spend and making payments at a time when every penny counts.
International payments, expertly done
When you make international payments with Equals Money, you can mitigate some of the risk that comes with trading in a climate this volatile. You can make payments and send money around the world with access to more than 100 currencies, but more than that, you'll get your own personal account manager who can watch the market for you and keep an eye on your currency pairs so they can alert you to any movements. With costs rising all over the map, you want to save money on your international payments, but you likely don't have time to monitor the market yourself.
We offer a number of solutions to help mitigate risk - one of which is a foreign exchange tool know as a "forward contract", which allows you to secure the current exchange rate for a payment in the future. This means you can take advantage of favourable rates, and you won't have to worry about the rate moving before you need to make your payment. You can lock in the exchange rate for up to 12 months, and any upturns or downturns in the currency market won't affect the rate you receive. This can help provide your business certainty on cash flow and cost management. With forward contracts, you'll know exactly how much money you'll receive when you convert money for your overseas payment.
There are potential risks associated with choosing a forward contract: even if the rate moves more in your favour by the time it comes to settling the transaction, you'll still receive the same agreed exchange rate. However, many customers find the stability a forward contract offers outweighs these risks.
Let Equals Money help save you time and money when it comes to making international payments.
Business expenses made simple
Another factor when trying to save time and money with business costs is managing your company spending. You want full visibility over expenses, but you might not have the time or resource to chase employees to reimburse their expenses or figure out who's spent what.
With an account from Equals Money, managing spend is that much easier. With prepaid cards and an online platform from Equals Money, stay on top of budgets and empower your team. Employees can spend in over 190 countries, and you can monitor their transactions in real time. They can request top-ups when they're low, pause their card if they're worried they've misplaced it, and check their PIN on the go. As a finance manager, you'll stay in control by monitoring budgets, responding to requests, and adjusting permissions for users. Equals Money makes expenses simple for your business.
In addition to keeping track of spend as it's happening, Equals Money helps you save time reconciling expenses. Manual reconciliation using a spreadsheet is time-consuming and inefficient. More importantly, this kind of reconciliation increases the risk of losing money over unaccounted for spending or mismatched expenses in a time when you don't have money to spare.
With the Equals Money online platform, team members can upload photos of receipts to our mobile app and annotate them to make reconciliation that much easier. Additionally, because employees can make purchases directly with their prepaid cards, you don't have to worry about the hassle of reimbursements. There are no more rounding losses with everything clear, transparent, and accounted for.
Cashflow struggles have always been a problem for businesses. The cost of living and rising inflation have only exacerbated these issues with everything from skyrocketing energy prices to damage to employee morale.
If any of these challenges resonate with you, Equals Money is here to help. With an account from Equals Money, you can help to at least mitigate some of these challenges and focus your attention on growing your business.
Get in touch today to see how we can help you.
1Research completed from 14/3/22-21/3/22