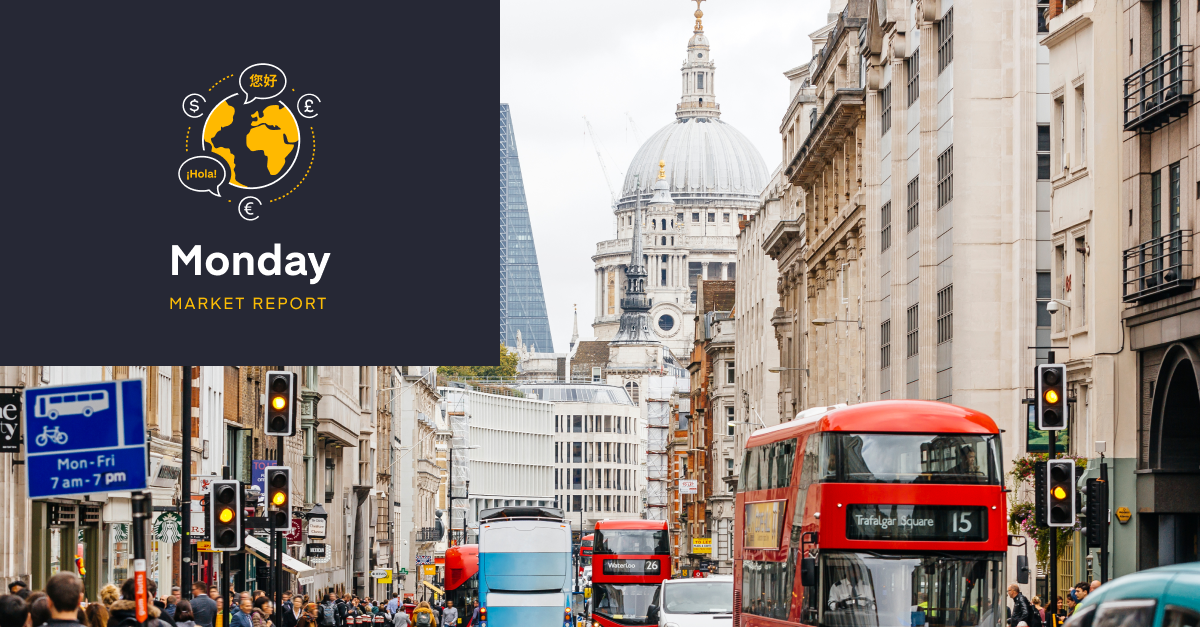 Will UK inflation hit double digits?

GBP: UK jobs and inflation set to dictate GBP
EUR: Drying rivers putting pressure on gas prices
USD: Has the dollar peaked?
Sterling
Following on from Friday's GDP data, attention will remain on how the UK is performing over the course of this week.
Tomorrow, we have the latest jobs report for the three months leading into June, expected to show that unemployment remains at 3.8% but wages continue to rise. 25,000 new jobs are expected to have been added in July with the number of people filing for jobless claims.
Following on from the Bank of England's prediction that the UK will be heading into a recession later this year, these data points will be closely watched to give markets an idea if a slowdown in the economy has already started or not. The data will give markets a good gauge in terms of if whether the predicted slowdown in the economy has started or not.
Wednesday will see the release of July's inflation reading, expected to show a rise to 9.8% with core inflation expected to rise to 6.4%. Higher inflation figures should support the pound in respect of interest rate hike expectations, with a 0.5% rate hike priced in for September.
The week will end with the retail sales report for July, expected to show sales fell by 0.2% as households continue to tighten their belt to deal with pressures on real incomes.
Euro
Inflation and second quarter growth data are the key data points this week, expected to come in at 8.7% and 0.7% respectively. European gas prices continue to rise on higher demand, as Europe's rivers continue to dry up over this hot summer, affecting the transportation of key energy commodities through the continent.
The energy market is already in a tight situation over supply issues from Russia, and global warming is now also having an effect which could pile on the pressure of an economic slowdown in Europe, as well as creating further inflationary pressures.
USD
Dollar demand increased overnight as China cut interest rates to support an economy that is coming out of another Covid lockdown. The rationale behind the rate cut is causing markets to think that growth in China may well be lower than initially expected, causing markets to seek out the safety of the US dollar.
The debate in the market on the US dollar is one of 'has the US dollar peaked?'. Last week's lower than expected inflation print caused the dollar to weaken off, but Fed speakers still touting that the Fed will need to keep on hiking rates has given strength back to the dollar.
Data point this week will be Wednesday's retail sales to give an idea of how consumer spending (a large proportion of US growth) fared over July. With gasoline prices dropping in the US, this may well have given households more room to spend. If we see a higher print, we could well see support for the US dollar
Chart of the day
UK inflation is already at the highest since 1982 and is expected to rise to a new 40 year high. Whilst most commodity prices have been falling around the world, UK gas prices have continued to rise.
The Bank of England forecasts inflation to peak at 13.3% in October, so double digit inflation looks set to be on the cards.
Source: Bloomberg Finance L.P.
Market rates
Today's Interbank Rates at 10:33am against sterling movement last week.
| | |
| --- | --- |
| Euro | €1.182 - |
| US dollar | $1.205 ↓ |
| Australian dollar | $1.715 ↑ |
| South African rand | R19.75 ↑ |
| Japanese yen | ¥160.7 ↓ |
Have a great day.